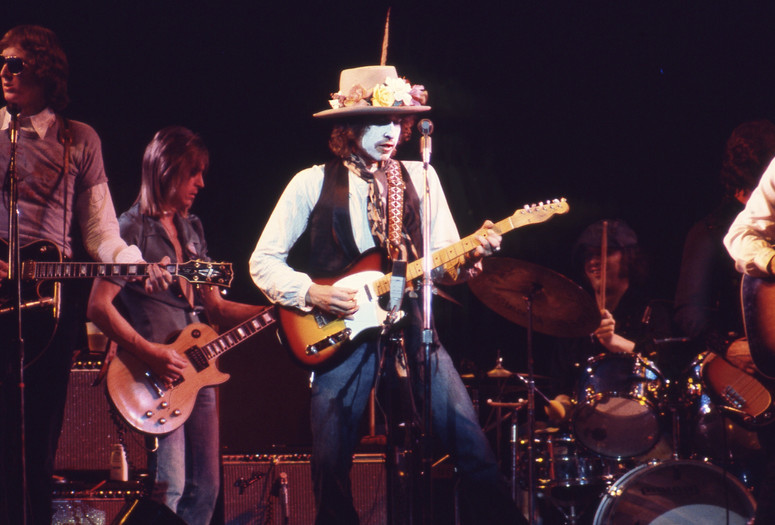 Rolling Thunder Revue. 2019. USA. Directed by Martin Scorsese. 142 min.
Was it the reunion with Joan Baez? The shambling, masterful crew assembled to play alongside him? The cocaine? The safety of performing in face paint? The fact that "the sixties" were really, truly over? It's impossible to know just what got him there, but the 1975–76 Rolling Thunder Revue tour is the closest Bob Dylan ever came to total transcendence.
In his ecstatic, myth-making documentary of the fabled tour (crucially subtitled "A Bob Dylan Story"), Martin Scorcese weaves beautifully restored and never-before-seen 16mm footage of the Revue with new interviews. Like a gang of troubadours, Dylan, Baez, Roger McGuinn, Joni Mitchell, Scarlet Rivera, Mick Ronson, Allen Ginsberg, Ramblin' Jack Elliott, and a slew of others played intimate, hours-long sets each night in gymnasiums and civic centers. No longer a loner on stage, Dylan performed like never before, exploding his '60s classics like more recent work, delirious and buoyed by the collaborative spirit. Set against the backdrop of the end of the Vietnam War, the looming Bicentennial, and the resignation of Nixon, Scorsese shows us that the closest we'll ever come to knowing the unknowable Dylan is when he's singing to us, close up, that sly and knowing look in his eyes.