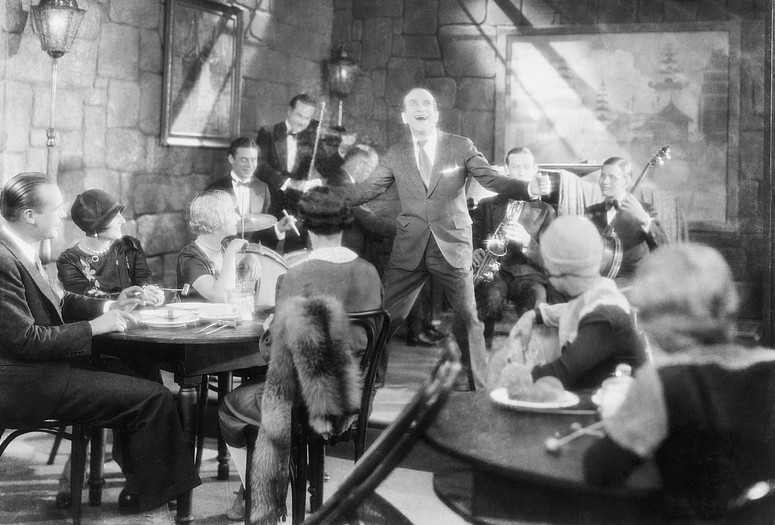 Olympia [diving sequence]. 1938. Germany . Directed and produced by Leni Riefenstahl. Music by Herbert Windt. 16mm. 6 min.
The men's diving sequence is one of the most famous sections of Riefenstahl's documentary of the 1938 Berlin Summer Olympics.
Thunder over Mexico. 1933. USA. Produced by Sol Lesser. Edited by Harry Chandlee from footage shot for Que Viva Mexico! Directed by Sergei Eisenstein. 1933. Music by Hugo Riesenfeld. Digital transfer from 16mm. 60 min.
Upton Sinclair backed this project, allowing Eisenstein to shoot over 50 hours of film before Sinclair shut it down. Two films were made from the footage and a study film, but Que Viva Mexico! was never finished.
The Coming of Sound. 1927–28. 16mm . 39 min.
Another popular program reel, these four films were made prior to Hollywood's first full year of conversion to sound and demonstrate the competing sound systems.
Included films are: The Jazz Singer [homecoming sequence and finale]. 1927. USA. Directed by Alan Crosland. Produced by Warner Bros. With Al Jolson. 11 min.; Shaw Talks for Movietone News. 1928. USA. Produced by Fox Movietone. With George Bernard Shaw. 6 min.; The Sex Life of the Polyp. 1928. USA. Produced by Fox Movietone. With Robert Benchley. 11 min.; Steamboat Willie. 1928. USA. Directed by Ub Iwerks, Walt Disney. 8 min.
In the Street. 1952. USA. Directed and photographed by Helen Levitt, Janice Loeb, James Agee. Music by Arthur Kleiner. 16mm. 16 min.
The focus of this urban documentary is the children of Manhattan's Upper East Side. Levitt did not approve of the music, added later, so clients had the option of showing the film silent.