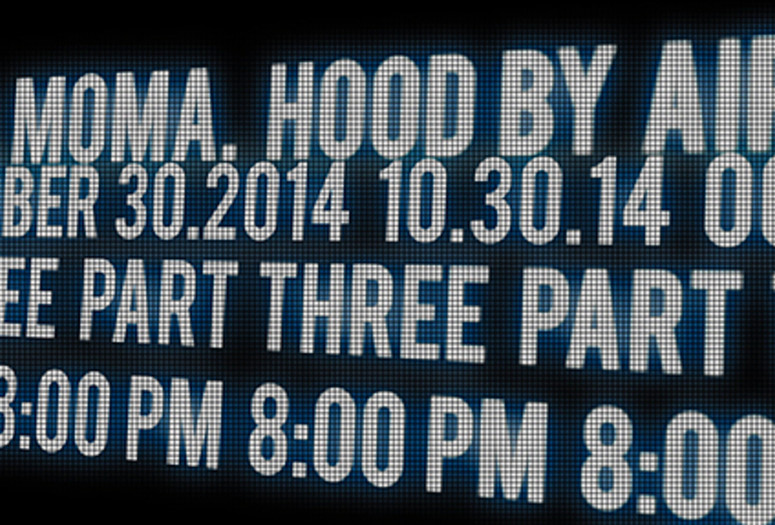 MoMA PopRally presents Id, a party performance and multimedia installation by design concept Hood by Air (HBA). This event marks the first time that HBA and their collaborators have premiered a live, multidisciplinary work outside of the context of fashion presentations. A performance masquerading as a party, Id is an interactive, semi-virtual experience that includes a theater, a live stream, and a "humannequin" installation. Performers include Boychild, Mykki Blanco, and surprise guests.
Doors open at 8:00 p.m.
Founded in 2006 by creative director Shayne Oliver, Hood by Air is the convergence of an ensemble of artists that works in fashion, experimental music, image making, nightlife, and performance. The brand is grounded in radical interrogations of the body as a site for limitless renegotiations of identity and meaning, imagining new possibilities for subjectivity liberated from strictures of the normal. Relying on strategies such as appropriation and sampling, Hood by Air's work subverts traditional divisions between original and copy, human and machine, and art and commerce.
Part Three: ID
Creative director: Shayne Oliver
CEO: Leilah Weinraub
Fashion director: Paul Cupo
Style direction: Akeem Smith
International brand ambassador: Ian Isiah
Casting director: Kevin Amato
Hair: Amy Farid in collaboration with James Garland
Makeup: Fatima Thomas
Stage and lighting design: Taran Allen/Thunderhorse
PR Consulting
Music and performances by: Gobby, Tim Dewit, Ashland Mines, Young Chow, Boychild, Mykki Blanco
Hood By Air NYC team: Catherine Lo Medico, Romina Cenisio, Emily Gruca, Jisun Kang, Beau Wollens
New work:
Nicolau Vergueiro
Jesse Kanda, Arca
Rachel Chandler
Seychelle Allah
SSION
Leilah Weinraub
Kevin Amato
HBA
You must be 21 or older to attend this event.
PopRally is a series of events at The Museum of Modern Art and MoMA PS1 that serve as a gateway for young and diverse audiences to engage with MoMA. Led by a cross-departmental committee of Museum staff, PopRally produces dynamic programs including artist collaborations, performances, film screenings, and digital content that encourage new and experimental ways of encountering modern and contemporary art.
Special Thanks to Sud de France Wines: Le Mas de la Chevalière, Jaja de Jau, Domaine du Vieux Chêne, Gilles Louvet and Laurent Miquel. Beer for this event has been provided by Brooklyn Brewery.