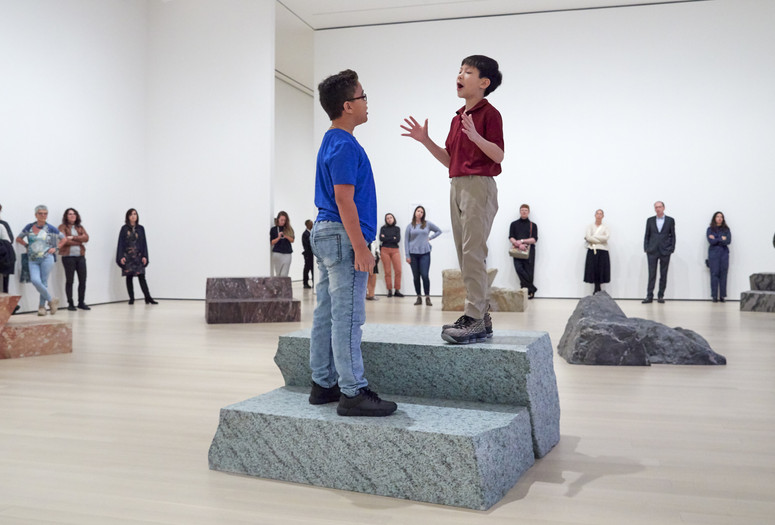 Two boy sopranos perform a duet amid low-slung sculptures made from stones that function as choral risers. In the span of 15 minutes, the boys hurl adversarial language at each other culled from literary sources ranging from Cicero to Shakespeare. The beauty of the music, arranged by composer Guarionex Morales-Matos, disguises the verbal forms of conflict, which evoke the tone of much political discourse today. The work's title plays up the multiple meanings of such opposition: a fault line is a geological fracture where the movement of masses of rock has displaced parts of the earth's crust. Here, it alludes to the tension between geological time and the brief period when the boys' singing can reach a high pitch before their voices break, as well as the breakdown of social order.
Performers: Benjamin Barham-Wiese, David Blair, Devin Zamir Coleman, Owen Flood, Eliot Flowers, Gabriel Gurevich, Agustya Harsh, Christian Henderson, Matthew Herrera, Jarod Hirsch, Gareth Hogan, SangHoon M. Jung, Will Kramer, Luciano Pantano, Jackson Rooney, Matthew Rooney, Alex Tollit, Emmanuel Tsao, and Edward Turner
Performer instruction by National Chorale: Amy Siegler, executive director, Saffron Chung, vocal coach, Matthew Truss, vocal coach, and Guillermo Asca, movement coach
This work is presented daily, every hour, on the hour, from 11:00 a.m. to 4:00 p.m.