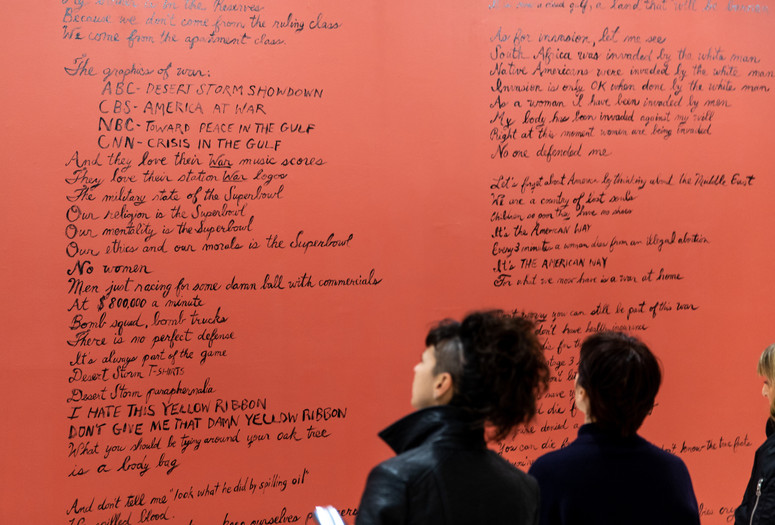 Schedule
VW Dome
2 p.m. Werner Herzog, Lessons of Darkness (1992)
3 p.m. Conversation with Jason DaSilva, Brian Drolet, DeeDee Halleck, Simin Farkundeh, Persheng Vaziri, and Suzy Salamy of Deep Dish TV
4:30 p.m. Karen Finley, Nightmares of Ivanka: Saturn Conjunct Pluto (2020)
In Gallery
12 p.m. (ongoing) Wafaa Bilal, October (2020)
To mark the closing of Theater of Operations: The Gulf Wars 1991-2011, VW Sunday Sessions presents an afternoon of films, performances, and presentations by artists in the exhibition, featuring new performances by Karen Finley and Wafaa Bilal alongside screenings and discussion with members of Deep Dish TV.
The program opens with a screening of Werner Herzog's documentary, Lessons of Darkness (1992). Following the film, Jason DaSilva, Brian Drolet, DeeDee Halleck, and Suzy Salamy of Deep Dish TV speak about their work and the role of citizen journalism as a foil to mainstream media. Founded in 1986, Deep Dish TV is a grassroots television production and distribution network that provides a collective platform for artists, independent video makers, programmers, and activists, to create and distribute television programs that "challenge the suppression of awareness, the corruption of language and the perversion of logic that characterize commercial media."
Karen Finley premiers a three-part performance, Nightmares of Ivanka: Saturn Conjunct Pluto, that responds to both the specificity of the exhibition context and current geopolitical events. Part 1: Nation Building features elements drawn from her work on view at MoMA PS1—The War at Home, The Dreams of Laura Bush, and Untitled (Execution of Saddam Hussein). For the second part of the performance, Finley fantasizes about Ivanka Trump's dream journal and allows Ivanka's imagined unconscious to become a space of parody and rebellion. Saturn Conjunct Pluto is a concluding monologue that seeks to inspire and empower the audience through a collective awakening.
Throughout the day, Wafaa Bilal continues his performance, October, that was created in response to the ongoing popular uprisings in Iraq that started in October 2019. To honor the more than 600 protesters who have been killed and disappeared by government forces to date, Bilal situates himself within his installation, 168:01, and alters books that have been donated by visitors from a selection made by Bilal in exchange for blank books from the work's shelves. At the close of the exhibition, the accumulated donations will be shipped to the College of Fine Arts in Baghdad to help replenish its 70,000-volume collection that was destroyed when looters set fire to the library during the American invasion in 2003. As a member of the Iraqi diaspora, Bilal's performance brings attention to the contemporary situation in Iraq, and the continued efforts of his fellow Iraqis to reform the country after decades of devastation.
VW Sunday Sessions highlights artists responding to contemporary social and political issues through a wide variety of creative and critical lenses. Encompassing performance, music, dance, conversation, and film, the series develops and presents projects by established and emerging artists, scholars, activists, and other cultural instigators.
VW Sunday Sessions is organized by Taja Cheek, Assistant Curator, and Alex Sloane, Assistant Curator, MoMA PS1 and is produced by Alexandra Rosenberg, Producer, with Chris Masullo, Production Coordinator, MoMA PS1.

VW Sunday Sessions and the VW Dome at MoMA PS1 are made possible by a partnership with Volkswagen of America, who have supported the program since its inception.

Dance programming as part of VW Sunday Sessions at MoMA PS1 is supported in part by the Mertz Gilmore Foundation.