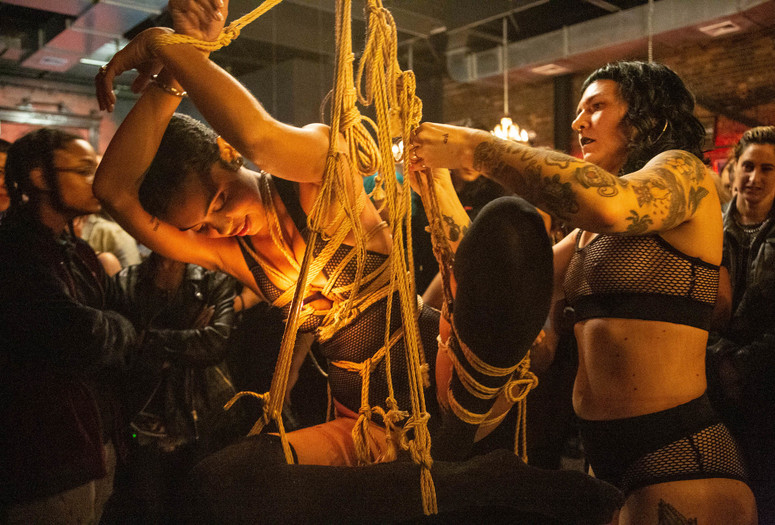 Kink Out: SPACES transforms the VW Dome into an interactive and educational arena of kink/leather rituals, performances, presentations, screenings, and installations, including discussions on safe practices, healing, and activism.
The program in the VW Dome is framed by opening and closing rituals led by members of Kink Out that provide a moment to reflect, honor both a new generation of practitioners and community elders, and set intentions. Throughout the afternoon, there are participatory experiences exploring consent and the art of bootblacking with visuals by AORTA Films, Eva Tusquets, Lanee Bird, Natasha Gornik, and Ze Royale.
Tiona Nekkia McClodden presents a performance-lecture titled Black + Queer in Leather: Black BDSM Material Culture [An Intervention + Lecture], which provides a broader community history and adds context to the program. This is followed by a shibari bondage performance led by Kissmedeadlydoll featuring Erykah Ohms and Jewelry And Fire. Tamara Santibañez screens her short film on bootblacking, Anyone Can Shine, and contributes a participatory installation tracing movement in the space throughout the day, marking and archiving the presence of community members and allies in the space.
Kink Out: SPACES continues with a whipping and flogging performance with Ashley Paige, Martine Phoenix, Tina Horn, Domina Jia, and culminates in Spank Therapy, a ritual of sexually awakening body drumming led by Ze Royale with DJ Roze Royze, ending the day with dance, music, and celebration.
Alongside the program in the VW Dome, two panel discussions in Artbook offer opportunities for critical information and tool-sharing: Big Tech is Watching: Surveillance and Resistance Mobilization with contributions from Cecilia Gentili, Lelia Raven, and Kate Zen on behalf of the sex worker-led tech activist collective Hacking//Hustling and Race Play and POC in Kink and Sex Work Spaces: Identity-based Emotional Labor, Sexual Preference, or Sexploitation? with Dulcinea Pitagora, Stephanie Lykes, and Cheyenne Taylor.
Kink Out is an event series organized by a revolving team of artists, activists, and producers, which celebrates and builds alliances between New York City's kink/leather and sex work communities. Though Kink Out's events take many forms, their programs are continually incited by art, conversation, and activism. Over the course of a six-week residency at MoMA PS1, Kink Out brought together members of the kink/leather and sex work communities to imagine ways to create, reclaim, and transform the virtual and physical spaces they occupy, using the VW Dome as a center for discussions, workshops, and organizing.
This residency culminates in Kink Out: SPACES, which brings the creativity, courage, and cultural significance of New York City's kink/leather and sex work communities to the forefront.
Kink Out: SPACES is co-organized by Yin Q, kd diamond, and Bridget Conway-Taylor.
Contributors include AORTA Films, Lanee Bird, Cecilia Gentili, Natasha Gornik, Tina Horn, Jewelry And Fire, Domina Jia, Kissmedeadlydoll, Stephanie Lykes, Tiona Nekkia McClodden, Erykah Ohms, Ashley Paige, Martine Phoenix, Dulcinea Pitagora, Yin Q, Leila Raven, Ze Royale, Roze Royze, Tamara Santibañez, Cheyenne Taylor, Eva Tusquets, Empress Wu, and Kate Zen.
Tickets:
General Admission: $15
MoMA Members: $13
Access to this program is limited to visitors 18 years and older.
VW Sunday Sessions highlights artists responding to contemporary social and political issues through a wide variety of creative and critical lenses. Encompassing performance, music, dance, conversation, and film, the series develops and presents projects by established and emerging artists, scholars, activists, and other cultural instigators.
VW Sunday Sessions is organized by Taja Cheek, Assistant Curator, and Alex Sloane, Assistant Curator, MoMA PS1 and is produced by Alexandra Rosenberg, Producer, with Chris Masullo, Production Coordinator, MoMA PS1.

VW Sunday Sessions and the VW Dome at MoMA PS1 are made possible by a partnership with Volkswagen of America, who have supported the program since its inception.

Dance programming as part of VW Sunday Sessions at MoMA PS1 is supported in part by the Mertz Gilmore Foundation.