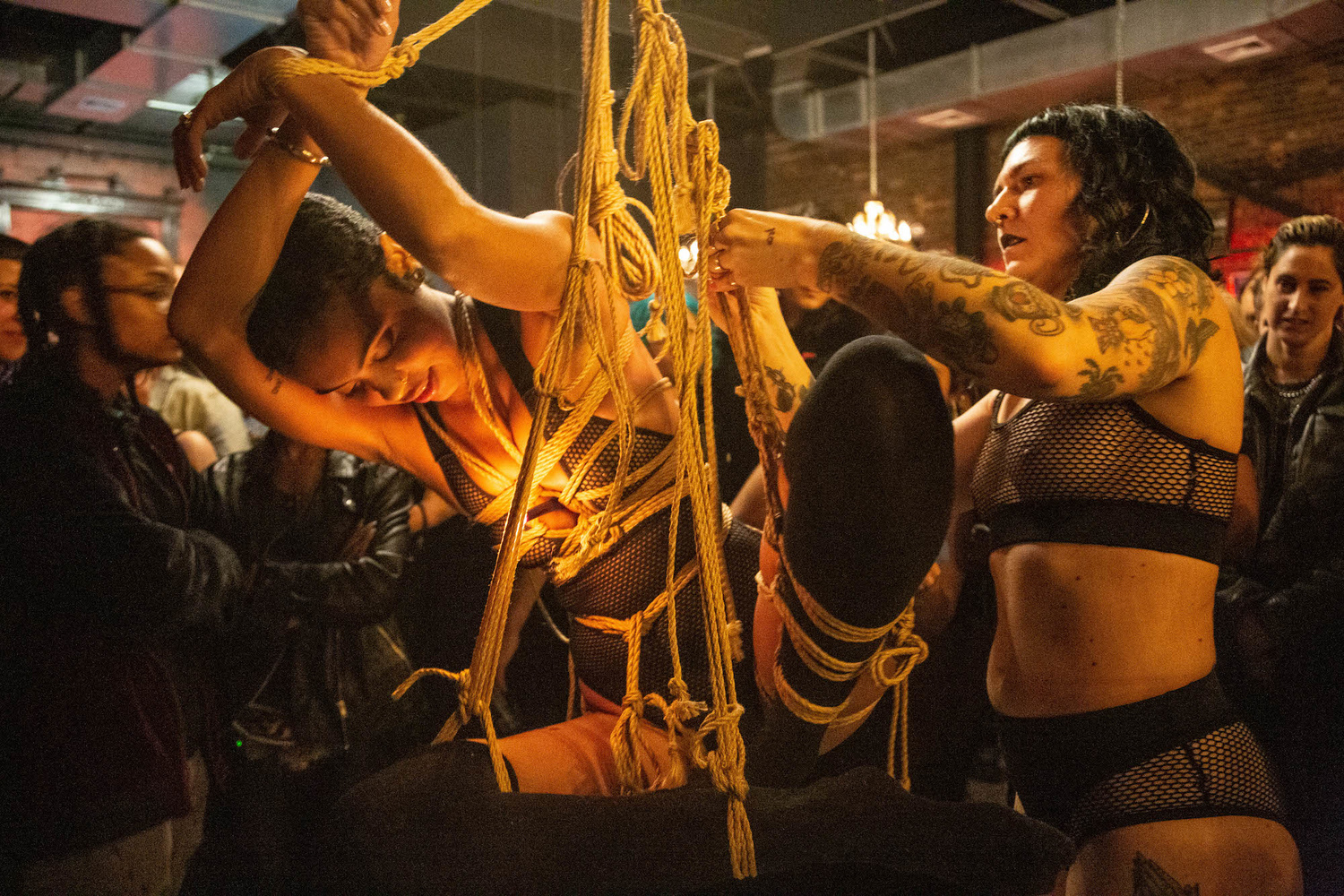 Kink Out is an event series organized by a revolving team of artists, organizers, and producers that celebrates and builds alliances between New York City's kink/leather, and sex worker communities. Though Kink Out's programs take many forms, their activities are continually incited by art, conversation, and activism.
For decades, kink/leather and sex worker communities have been forced to seek refuge underground and create havens for themselves out of the public eye, often in nightclubs or bars. Yet even these safer spaces remained under threat of police raids and public harassment, as well as a lack of acceptance in mainstream culture, which prompted these communities to embrace the virtual realm of the internet as a place to network, build alliances, and practice safely. In light of recent legislation that places these online communities at risk, safe virtual and physical spaces are even more urgently needed.
Over the course of a six-week residency, members of the kink/leather and sex worker communities will imagine ways to create, reclaim, and transform the virtual and physical spaces they occupy, using the VW Dome as a hub for discussions, workshops, and organizing, as well as public events.
The residency culminates in Kink Out: SPACES, a large-scale program that features performances, screenings, and immersive presentations from local BDSM practitioners, as well as discussions on safe practices, healing, and activism—all of which center the creativity, courage, and cultural significance of the city's kink/leather and sex worker communities.
Kink Out: SPACES is co-organized by Yin Q, kd diamond, and Bridget Conway-Taylor.
Tickets:
General Admission: $15
MoMA Members: $13
Access to this program is limited to visitors 18 years and older.
VW Sunday Sessions highlights artists responding to contemporary social and political issues through a wide variety of creative and critical lenses. Encompassing performance, music, dance, conversation, and film, the series develops and presents projects by established and emerging artists, scholars, activists, and other cultural instigators.
VW Sunday Sessions is organized by Taja Cheek, Assistant Curator, and Alex Sloane, Assistant Curator, MoMA PS1 and is produced by Alexandra Rosenberg, Producer, with Chris Masullo, Production Coordinator, MoMA PS1.

VW Sunday Sessions and the VW Dome at MoMA PS1 are made possible by a partnership with Volkswagen of America, who have supported the program since its inception.

Dance programming as part of VW Sunday Sessions at MoMA PS1 is supported in part by the Mertz Gilmore Foundation.