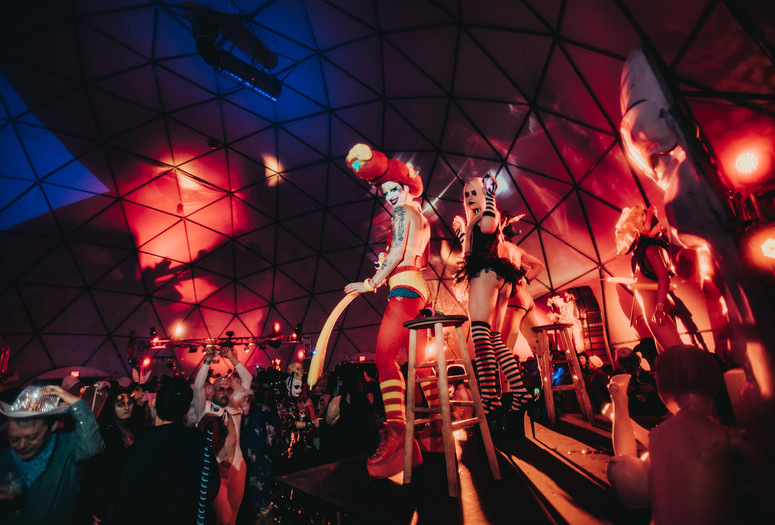 MoMA PS1 and New York legend Susanne Bartsch are teaming up once again for the eighth annual Halloween Ball. Be transported to the infamous Valley of the Dolls, with outrageous live performances, tableaux vivants, DJs, and the most elaborate costumes in the city. This year's spectacle is far from child's play, with the VW Dome dolled up in a kaleidoscopic riot of anarchic sex dolls, candy-popping nurses, and beehived beauties.
Tickets:
General Admission: $25
MoMA Members: $18
Ticket Package (expedited entry and two complimentary drinks): $55
Live performances by:
Loulou D'Vil | Charlene | Perle Noire | Dangerous Rose | Precious | Jasmine Rice Labeija | Mrs. Smith
DJ sets by:
Mazurbate | Eli Escobar | Amber Valentine | W Jeremy
With:
Linux | Villain | Kyle Farmery | CT Hedden | Jeffrey Scott | Muffy | Chlamydia | Blair Jirousek | Jessica Relinda | Lola Von Rox | J Rosa | Johanna Constantine | Ryan Burke | Hana Holquist | Radical Pom | Kiss | Archie Goats
Hosted by:
Emily Allan | Kellian Delice | Kathleen Dycaico | Peter Eleey | Kate Fowle | Angela Goding | Jonathan González | Leah Hennessey | Kinlaw | Jose Ortiz | Quenton Stuckey | TALK HOLE | Tara-Jo Tashna | Jeremy Toussaint-Baptiste | Tygapaw
Looking for more? Come to the After Party, also hosted by Susanne Bartsch!