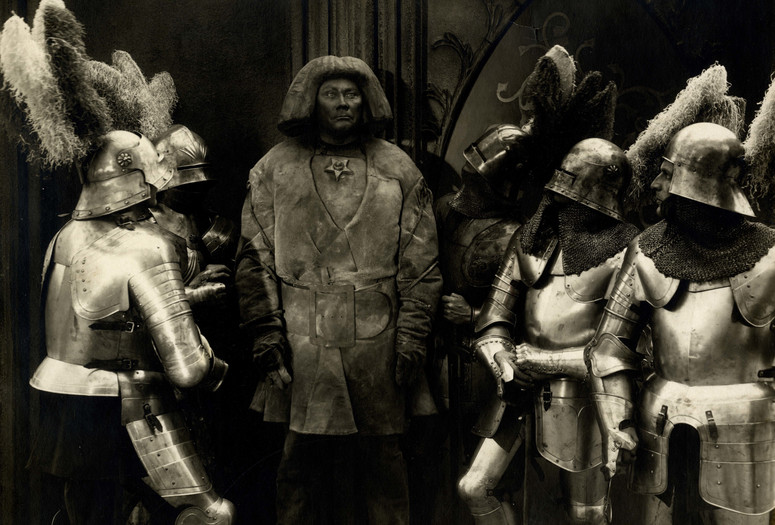 The Skeleton Dance. 1929. USA. Directed by Walt Disney. Animation by Ub Iwerks. 16mm. 6 min.
"Fame and fortune waited on the second Mickey Mouse, Steamboat Willie, made with sound. It scored an immediate success as its first showing in September, 1928. The Skeleton Dance, first of the Silly Symphonies, was made the following year. In the Mickeys and the Symphonies alike, the brilliant use of sound as an integral part of the cartoon, rather than as an accompaniment deserves special attention."
Der Golem. 1920. Germany. Directed by Carl Boese, Paul Wegener. Screenplay by Wegener. With Albert Steinrueck, Ernst Deutsch, Wegener. 35mm. Silent, with musical accompaniment. German main titles, English intertitles. 87 min.
"Wegener made an earlier version of the subject in 1914, working with a group of associates, Stellan Rye the Danish director, Henrik Galeen, the writer and Guido Seeber, the cameraman as he had done in the making of The Student of Prague. (In the 1920 version) the clay image of the Golem (is) brought to life by the old Rabbi. This legendary figure of the middle ages is afterwards instrumental in delivering the Jews from the oppression of their overlord. The entire film, of considerable interest for its exterior settings and its lighting as well as for the acting of Wegener (as the Golem)."