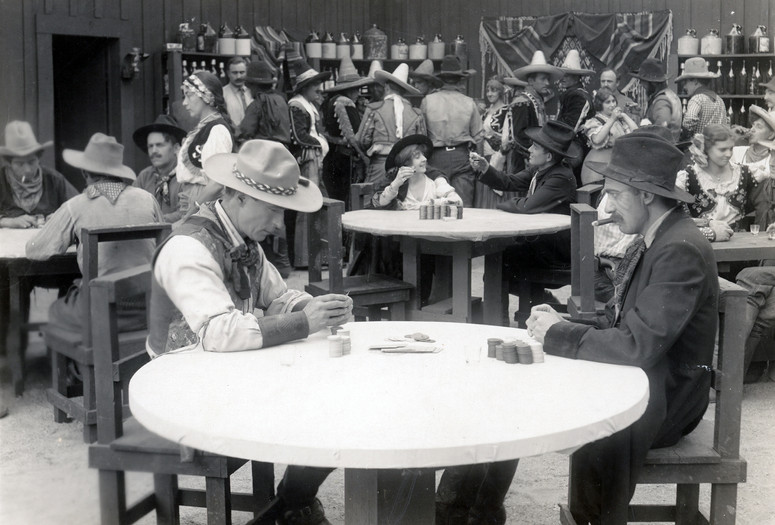 The New York Hat. 1912. USA. Directed by D. W. Griffith. Story by Anita Loos. With Mary Pickford, Lionel Barrymore, Robert Harron. 35mm. Silent, with musical accompaniment. 15 min.
"When Griffith began directing films in 1908, he tried to make his characters resemble people in real life and to reveal them intimately. A girl with long curls, at first anonymous like all Biograph players, but afterwards canonized as Mary Pickford, responded curiously to Griffith's direction. Her gestures were small, drawn-out but expressive: there was warmth and sincerity in the parts she played. Mary gives herself a half-disparaging look in the mirror, arranges one glove to look like a pair, and trips hopefully outdoors."
The Taking of Luke McVane (The Fugitive). 1915. USA. Directed by William S. Hart. Supervised by Thomas H. Ince. With William S. Hart, Enid Markey, S. C. Smith. 35mm. Silent, with musical accompaniment. 26 min.
"A film as ruthlessly tragic as this is rare today, but it was a peculiar style of Western, stamped with Bill Hart's rigid mask, that endeared Ince to Moviegoers. Illuminated subtitles, as used in The Fugitive, were contrived by Ince; he attempted to blend printed matter with film proper by decorating the borders of his captions with symbols—cactus for desert, buds for a maiden, a snarling wolf-head for a villain." This print carries the reissue title The Fugitive.
A Clever Dummy. 1917. USA. Directed by Herman Raymaker. Produced by Mack Sennett. With Ben Turpin, Chester Conklin, Wallace Beery. 16mm. Silent, with musical accompaniment. 26 min.
"Eminently one of the purest types of films, slapstick comedy originated in the little comic incidents of the primitive cinema…. It developed after 1905 under the French comedian, Max Linder, who introduced the visual surprises which are to the screen comedy what gags are to vaudeville comedians. Ben Turpin, associated with Chaplin in many of his Essanay comedies, is most celebrated for his A Small Town Idol (1921). A Clever Dummy reveals him as a singularly expressive zany—all of gallantry, for instance, is expressed by the kiss the clever dummy drops on the leading lady's hand."