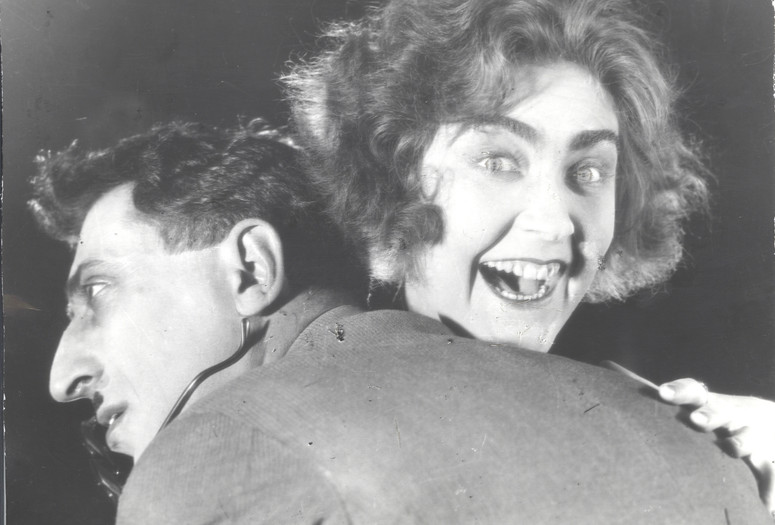 Held in conjunction with MoMA's Discovering Georgian Cinema exhibition, this special presentation, introduced by Peter Bagrov, Curator of the Russian state archive Gosfilmofond in Moscow, features a live performance by Beth Custer Ensemble of an original score commissioned by Berkeley Art Museum/Pacific Film Archive (BAM/PFA). With thanks to the International Council of The Museum of Modern Art.
Chemi Bebia/Moya Babushka (My Grandmother). 1929. USSR. Directed and cowritten by Kote Mikaberidze. Russian intertitles; simultaneous English translation. 65 min.
With Aleksandre Takaishvili, Bella Chernova, E. Ovanov. Mikaberidze's satire of Soviet bureaucracy is a genuine piece of grotesquerie, a Georgian version of the antic experiments of FEKS (the Factory of the Eccentric Actor). The film's most memorable character is a wide-eyed, wild-haired wife of a bureaucrat, caught up in a frenzy of bourgeois living. Her equally comic husband, modeled after Harold Lloyd, personifies the indolence and irrelevance of a State system that resembles nothing so much as a roundtable defended by benighted stooges. When the husband loses his job, he learns the value of a "grandmother"—a slang term for the boodle that moves the table round. This irreverent blast, complete with Constructivist sets and deconstructivist slapstick, has lost none of its bite.