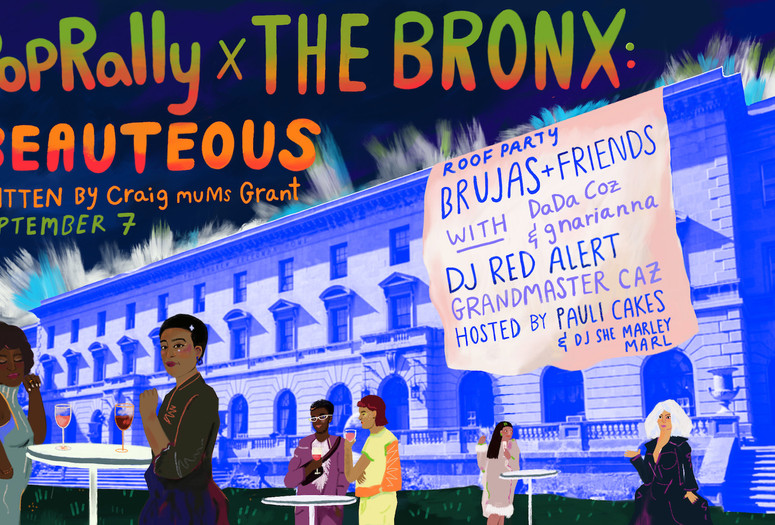 Join us for the third event of MoMA PopRally × New York, a creative journey across New York City. From Staten Island to the Bronx, we're heading to each of the five boroughs to explore local art, music, food, film, and more while MoMA is temporarily closed for renovations.
On September 7, PopRally and the Andrew Freedman Home present Beauteous, a site-specific, immersive theatrical presentation. Beauteous explores issues of perception, community branding, and the dynamics of hype, incorporating narratives of LGBTQ subculture, rap, hip-hop, and DJing to reflect the cultural evolution of the Bronx. Guests will experience an imagined urban future through theatrical vignettes, musical performances, and art installations set amid the faded glamor of a Gilded Age mansion located on the Grand Concourse in the Bronx. Beauteous will culminate on the mansion's rooftop with a dance party hosted by Pauli Cakes and DJ She Marley Marl, featuring DJ sets by BRUJAS and friends with DaDa Coz and gnarianna, DJ Red Alert, and Grandmaster Caz. Plus, enjoy drinks and food by local Bronx chefs for purchase throughout the evening.
Tickets are $10 in advance and $15 at the door. Beer is provided by Five Boroughs Brewing Co. Garden festivities begin at 6:00 p.m., with doors to the performance opening at 8:00 p.m. and rooftop DJ sets beginning at 10:00 p.m.
Stay tuned for more about our next event, in Brooklyn!