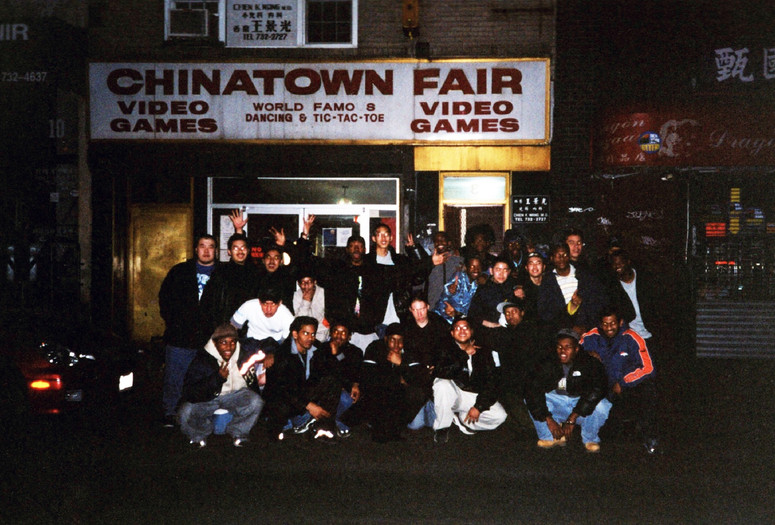 In conjunction with the exhibition Devin Kenny: rootkits rootwork, artist Devin Kenny presents a film series exploring a range of topics, from gentrification in New York's Lower East Side to video game culture and histories of hip hop. Screenings take place in MoMA PS1's cinema every Friday evening in August.
AUGUST 9
Three documentary films touch on a range of subjects: graffiti writer Zexor at work in the streets of New York; an iconic portrait of Brooklyn during the flourishing of early hip hop; and a meditation on Black social musics and cultural appropriation.
Summer In New York pt.5 - Bombing With Zexor (2016). 15 min.
Produced by TagsAndThrows / Thomas OKOK Gunnarsson. Music by Smutskatt.
Reck'n Shop: Live from Bklyn (1992). 28 min.
Directed by Diane Martel
The Cry of Jazz (1959). 34 min.
Directed by Edward Bland. Restoration by The Film Foundation.
AUGUST 16
A feature-length documentary pays homage to the beloved Chinatown Fair video arcade, founded in 1944, and its impact on the lives and communities that intersected there.
The Lost Arcade (2015). 1 hr 19 min.
Directed by Kurt Vincent. Written and produced by Irene Kim Chin
AUGUST 23
Two documentaries address histories of gentrification and forms of belonging in two different New York neighborhoods.
Your House Is Mine (2004). 1 hr 5 min.
Directed by Caroline McCaughey
The King of Chinatown (2010). 57 min.
Directed by Calvin Theobald. Co-produced by Jordan Levinson.
AUGUST 30
Legendary graffiti writer Fernando Carlo (Cope2), a pioneer of the "throw up" tag and a presence in New York since the 1980s, documents himself and his crew at work in streets.
Cope2 Kings Destroy (2006). 1 hr 20 min.
Directed by Fernando Carlo.