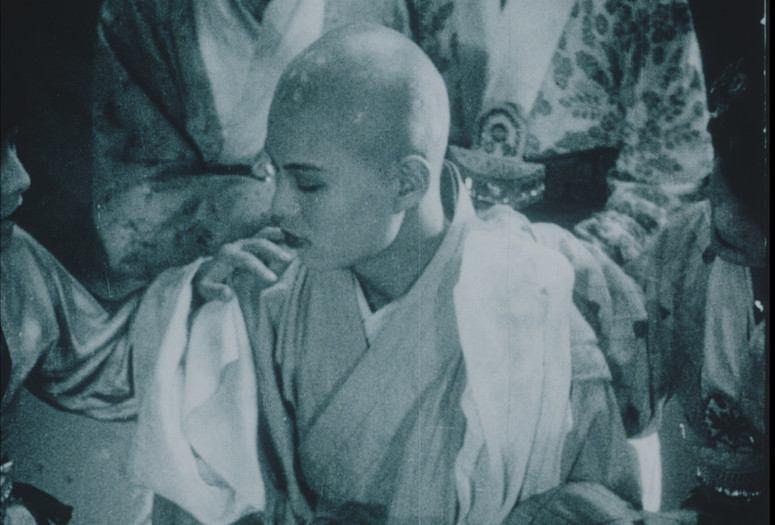 Pan si Dong (The Cave of the Silken Web). 1927. China. Directed by Dan Duyu. Chinese and Norwegian intertitles; English subtitles. 60 min.
With Yin Mingzhu, He Rongzhu, Dan Erchun. Virtually all of silent Chinese cinema is believed lost because of neglect, deterioration, or outright destruction, so the recent discovery of a nitrate 35mm print of Pan si Dong in the archives of the National Library of Norway is cause for joy. Based on a climactic moment in Wu Cheng'en's classic Ming Dynasty fable Journey to the West, the film was one of the most ambitious of its time; directed by Dan Duyu, a successful portrait painter who in 1920 created China's second movie studio, Shanghai Photoplay Company, it stars his wife, the sensational actress Yin Mingzhu, as a femme fatale. Pan si Dong follows a Buddhist monk and his three guardian disciples, Monkey, Pigsy, and Sandy, on a perilous odyssey across the west—and into India—in search of sacred scriptures. Their quest is fraught with danger and temptation, bringing demons, evil spirits, and flesh-eating spider women. Preserved by the National Library of Norway.
China and the Chinese [Part 2]. 1917. USA. Silent with Piano Accompaniment. 18 min.
This rare travelogue offers revelatory images of Shanghai on the eve of China's declaration of war on Germany. The film, with its bustling street scenes of peddlers, rickshaw drivers, merchants, and other urban workers, was part of a broader ambitious effort by a Russian American entrepreneur, Benjamin Brodsky, to dispel Western myths and stereotypes about the Chinese people. Preserved by The Museum of Modern Art with funds from the National Film Preservation Foundation as part of a generous repatriation by the New Zealand Film Archive.