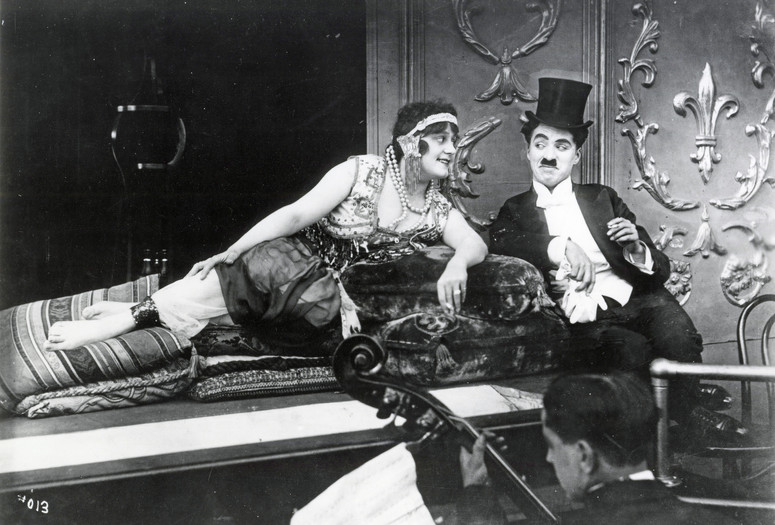 The Chaplin Project brings together a consortium of international archives with Lobster Films in Paris and the Cineteca di Bologna in Italy to restore all of Charles Chaplin's short films and features. Serge Bromberg, who has helped spearhead this project as the founder of Lobster Films, presents the North American premieres of The Bank, A Night in the Show, and _Easy Street_—all made between 1915 and 1917, the period during which Chaplin was lured away from Mack Sennett's Keystone Studios to produce comedies for the Essanay Film Manufacturing Company and, starting in 1916, the Mutual Film Company. During his acrimonious but pivotal career at Essanay, which ended in 1918, Chaplin took greater control over his films. By honing his comic timing and deepening the humor through pathos, romantic disillusionment, and fantasy, he turned the Tramp into an international phenomenon. On November 15, in his inimitably entertaining way, Bromberg presents before-and-after examples of the restoration effort and accompanies the films on piano. On November 22, Ben Model performs piano accompaniment, following his fascinating illustrated lecture at 3:00 p.m. on the use of undercranking in silent slapstick comedy.
Au Music hall (At The Music Hall). 1908. France. Pathé. With Max Linder. 3 min.
The Bank. 1915. USA. With Chaplin, Edna Purviance, Leo White. Restored from unique material held in The Museum of Modern Art, thanks to the generous support of Susan Harmon and Richard Meyer. 25 min.
A Night in the Show. 1915. USA. With Chaplin, Purviance, Wesley Ruggles. Restored by Cineteca di Bologna at L'Immagine Ritrovata, in collaboration with Lobster Films and Film Preservation Associates, with funding provided by The Film Foundation, the George Lucas Family Foundation, and The Material World Charitable Foundation. 23 min. Easy Street. 1917. USA. With Chaplin, Purviance, Eric Campbell, Lloyd Bacon. 23 min.
Easy Street. 1917. USA. With Chaplin, Purviance, Eric Campbell, Lloyd Bacon. 23 min.
Rencontre Max Linder / Chaplin. 1917. USA. 2 min.
Program approx. 80 min.
Special thanks to the Cultural Services of the French Embassy