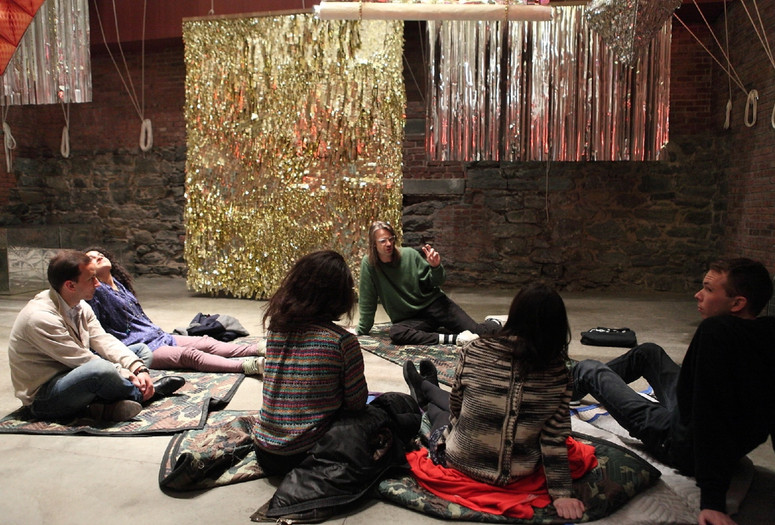 SCHEDULE
12–3 PM · Mårten Spångberg: The Dancing Seminar: A Listening Dance
3–5 PM · Annabel Daou: Fortune
3–6 PM · Launch of Critical Spatial Practice book series
Nikolaus Hirsch, Markus Miessen and guests launch Critical Spatial Practice book series
3–6 PM · VW Dome
On the occasion of the book launch of What is Critical Spatial Practice?, editors Nikolaus Hirsch and Markus Miessen invite a series of protagonists from the fields of architecture, art, philosophy, and literature, including Beatriz Colomina, Liam Gillick, Aaron Levy, Suhail Malik, Reinhold Martin, Naeem Mohaiemen, Jorge Otero-Pailos, John Rajchman, Dieter Roelstraete, Martha Rosler and Felicity D. Scott to discuss the question of "what, today, can be understood as a critical modality of spatial practice?"
Most of the 64 contributions presented in the first volume were composed concurrently with the evictions of many of the Occupy movements, the sustained turmoil of the Arab Spring, and continued spasms in the global markets, which, interestingly, all pointed at the question of whether architecture and our physical environment can still be understood as a res publica.
The book, published by Sternberg Press, is the first in a series on Critical Spatial Practice, developed alongside the Städelschule program of the same name. Each edition includes visual work by an invited artist—the first includes newly commissioned work by Armin Linke, who documented the Occupy camp around the European Central Bank in Frankfurt.
A post-panel reception with music by DJ TELFAR and special cocktails will be hosted by PIN-UP magazine.
—
Mårten Spångberg continues The Dancing Seminar: A Listening Dance, a series of 12 lectures on dance and choreography
12–3 PM · Duplex
The Dancing Seminar: A Listening Dance combines the theoretical nuances of a seminar with the affective qualities of dance, linking reason and reflection with the sensual and intuitive. In 12 three-hour long sessions Spångberg addresses topics thoroughly embedded in movement, dance and choreography and simultaneously attempts to place these in the broader contexts of labor, engagement, urgency, economy and politics. Rather than expanding notions of choreography, this series explores the possibilities of thought through dance and the concept of dance as a practice of truth. This series of seminars is co-hosted with Movement Research.
—
Annabel Daou: Fortune
3–5 PM · Duplex
In her ongoing project, Annabel Daou offers her services as a fortune teller. Members of the public are solicited to partake in an intimate exchange, presenting their palms to Daou who transcribes their fortunes onto paper for a small fee. This work explores questions of trust, intimacy and the role of the artist as intermediary between our expectations and our personal histories. Like previous projects by Daou, Fortune takes place at the intersection of writing, speech, and non-verbal modes of communication.
$10 a Fortune
Sunday Sessions is a weekly presentation of performance, moving images, dance, music, and discursive programs. Its mission is to embrace live arts as an integral aspect of contemporary practice and ask how art forms, which unfold in the here and now, produce specific ways of thinking and useful means to engage with the broader world. Every Sunday different artists, curators, thinkers and a range of other cultural agents are invited to share their latest projects and ideas with the MoMA PS1 audience.
Sunday Sessions is made possible by MoMA's Wallis Annenberg Fund for Innovation in Contemporary Art through the Annenberg Foundation.

The VW Dome at MoMA PS1 is made possible by a partnership with Volkswagen of America.