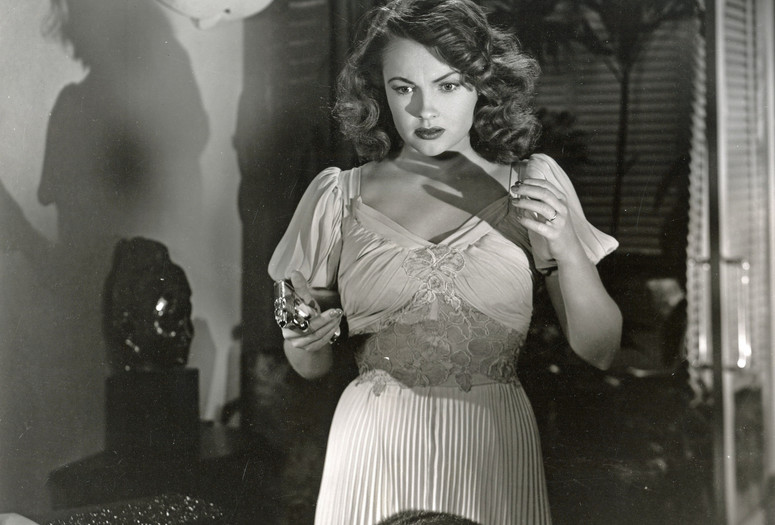 "Oreos – Little Girls Have Pretty Curls.". 1962. USA. Directed, photographed, and edited by Morris Engel
Produced by the McCann-Erickson Agency in New York, and winner of the Best Baked Goods & Confections Award at the 1962 3rd American TV Commercial Awards, this commercial spot for Oreo Cookies was directed with great charm by Morris Engel (The Little Fugitive), and stars 10-year-old Tommy Norden (Bud Ricks on Flipper). New 35mm preservation print courtesy Cinema Conservancy.
Repeat Performance. 1947. USA. Directed by Alfred L. Werker. 91 min.
Screenplay by Walter Bullock, based on a novel by William O'Farrell. Music by George Anthiel. With Louis Hayward, Joan Leslie, Virginia Field, Richard Basehart. The films of Hollywood's "Poverty Row" studios, where budgetary constraints could also mean freedom from convention, remain a constant source of surprise. This overlooked Eagle-Lion production from 1947, one of two films made at the studio by contract-breaking Warner Bros. star Joan Leslie, has been described by the critic Eddie Muller as "the film noir version of It's a Wonderful Life." Leslie plays a Broadway star who shoots her alcoholic husband (Hayward) on New Year's Eve; her wish to "do it all over again" is suddenly and inexplicably granted, and as the action continues she gradually discovers that she is reliving the last year of her life. Stylish work by the journeyman director Werker complements a witty script by Bullock. 35mm print restored by the UCLA Film & Television Archive, with funding from the Film Noir Foundation; courtesy Films Around the World, Inc.