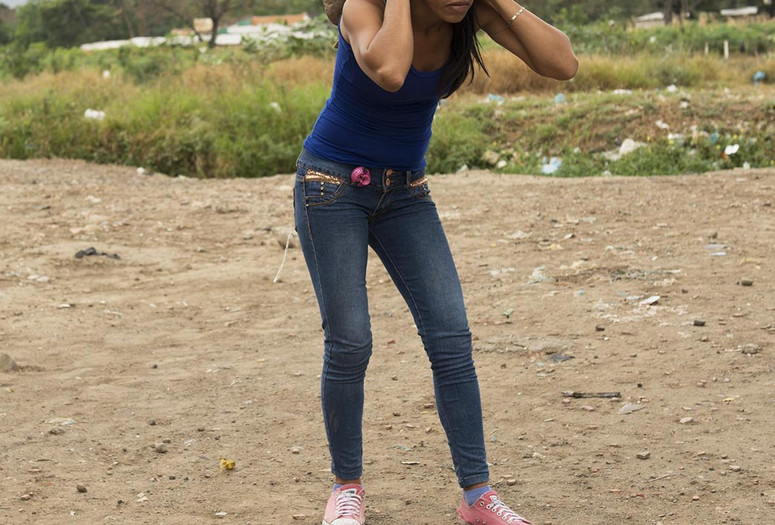 The Patricia Phelps de Cisneros Research Institute for the Study of Art from Latin America presents "On Human Displacement," a lecture by artist Teresa Margolles, as part of a series of conversations with figures key to contemporary cultural production from Latin America.
Margolles, who has been working in conflicting border zones for nearly two decades, will discuss her longstanding work in two cities: Ciudad Juarez, Mexico, and Cucuta, Colombia. In 2000, she started a research project about the victims of gender-based and social violence in Ciudad Juarez, a city that limits the US, which has become infamous for its murder rate. In 2017, the artist started a series of visits to Cucuta, a city that borders Venezuela, a country that in recent years has seen an unparalleled increase in migration.
The new series of works that emerged from Margolles's field trips to Cucuta, and specifically to the Simon Bolivar International Bridge, address labor, sacrifice, and gender. They take the form of photographs, videos, objects, and sound pieces that register performances produced on site, highlighting social injustices in the artist's characteristic antagonistic, emotional manner. Margolles's talk will address her sustained engagement in these cities as sites of displacement and social emergency.
Since the beginnings of her career with the art collective SEMEFO (so-called in reference to Mexico's Forensic Medical Service), Teresa Margolles (b. Culiacán, Mexico, 1963) has developed diverse series of works that deal in a brutal and caring way with death, crime, and related political issues of our time.
The lecture will be delivered in Spanish with simultaneous English translation.
Admission is free but RSVP is required. Space is limited and seating will be offered on a first-come, first-served basis.
RSVP to [email protected] with MARGOLLES in the subject line.
---
El Instituto de Investigación Patricia Phelps de Cisneros para el estudio del arte de América Latina presenta "Sobre el desplazamiento humano", una conferencia de la artista Teresa Margolles organizada como parte de una serie de conversaciones con figuras clave de la producción cultural de América Latina.
Margolles, quien ha estado trabajando en zonas fronterizas de conflicto durante casi dos décadas, hablará sobre su trabajo en dos ciudades limítrofes: Ciudad Juárez, México y Cúcuta, Colombia. En el año 2000, Margolles puso en marcha una investigación sobre las víctimas de la violencia social y de género en Ciudad Juárez, una ciudad que limita con los Estados Unidos y que se ha vuelto conocida por su altísima tasa de homicidios. En 2017, la artista inició una serie de visitas a Cúcuta, en el límite con Venezuela, país que en los últimos años ha experimentado un éxodo sin precedentes.
Los viajes de campo de Margolles a Cúcuta, y en particular al Puente Internacional Simón Bolívar, dieron origen a una serie de nuevas obras que abordan problemas relativos al trabajo, el sacrificio y el género. Se trata de fotografías, videos, objetos y obras sonoras que registran acciones desarrolladas en el lugar, poniendo de relieve la injusticia social en el estilo antagónico y a la vez emocional propio de la artista. La charla de Margolles abordará su sostenido involucramiento con estas ciudades como sitios de desplazamiento y emergencia social.
Desde los comienzos de su carrera en el colectivo artístico SEMEFO (llamado así en referencia al Servicio Médico Forense de México), Teresa Margolles (n. Culiacán, México, 1963) ha desarrollado diversas series de obras que abordan con piedad y brutalidad la muerte, la delincuencia y los problemas políticos de nuestro tiempo.
La conferencia de Teresa Margolles será en español, con traducción simultánea al inglés.
La entrada es libre, pero se requiere reservar el cupo. El espacio es limitado y los asientos se ofrecerán en orden de llegada.
_RSVP a [email protected] con MARGOLLES en el tema del correo._
The Patricia Phelps de Cisneros Research Institute for the Study of Art from Latin America is a platform dedicated to stimulating, supporting, and disseminating new understandings of Latin American modern and contemporary art in relationship to broader cultural issues within a global context.

El Instituto de Investigación Patricia Phelps de Cisneros para el estudio del arte de América Latina es una plataforma dedicada a estimular, apoyar y diseminar nuevos acercamientos al arte moderno y contemporáneo de América Latina, en diálogo con problemáticas culturales ampliadas en el contexto global.