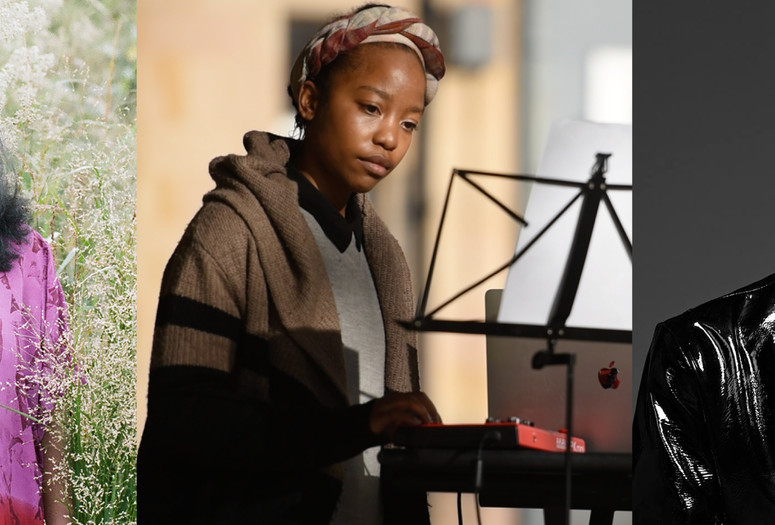 Doors open at 6:45 p.m.
7:00 p.m. program
8:15 p.m. reception
Presented by The Friends of Education of The Museum of Modern Art, Conversations: Among Friends explores works of art as reflections of their political and social contexts. Inspired by the current exhibition New Order: Art and Technology in the Twenty-First Century, this panel will be moderated by Michelle Kuo, The Marlene Hess Curator of Painting and Sculpture.
Salome Asega
Salome Asega is an artist and researcher based in New York City. She is currently a technology fellow at the Ford Foundation and director of partnerships at POWRPLNT, a digital art "collaboratory" in Bushwick, Brooklyn. Salome has participated in residencies and fellowships with Eyebeam, New Museum, the Laundromat Project, and Recess. She has exhibited at the Shanghai Biennale, Zeppelin Museum, ICA London, Kunsthale Whitebox, and August Wilson Center. She has given lectures and presentations at Carnegie Mellon University, MIT Media Lab, Performa, EYEO, RISD Museum, and 1-54. Asega received her MFA from Parsons at the New School in Design and Technology, where she also teaches.
Steffani Jemison
Steffani Jemison lives and works in Brooklyn, New York. Her work is currently on view in the Whitney Biennial 2019, the touring group exhibition Black Refractions: Highlights from The Studio Museum in Harlem, and a solo exhibition at Kai Matsumiya. Recent and forthcoming solo exhibitions and commissioned performances include Jeu de Paume (2017), CAPC Bordeaux (2017), MASS MoCA (2017), Nottingham Contemporary (2017), RISD Museum (2015), and The Museum of Modern Art (2015). Recent solo screening programs include Lincoln Center's Art of the Real (2018) and Gene Siskel Film Center's Conversations at the Edge (2018). Collaborative and group exhibitions include the Drawing Center (2014), the Brooklyn Museum (2014), and the New Museum of Contemporary Art (2011), among others. In 2019 she will present new and recent work in Steffani Jemison: New Videos (Stedelijk Museum) and Steffani Jemison and Samson Young: Decoders/Recorders (De Appel). In collaboration with Justin Hicks, Jemison performs as Mikrokosmos. Mikrokosmos performances have been presented by Western Front, Nottingham Contemporary, MASS MoCA, festival steirischer herbst, and other venues. Jemison's work is in the public collections of The Museum of Modern Art, the Whitney Museum, the Brooklyn Museum, the Studio Museum in Harlem, and Kadist.
Jacolby Satterwhite
Jacolby Satterwhite was born in 1986 in Columbia, South Carolina. He received his BFA from the Maryland Institute College of Arts and his MFA from the University of Pennsylvania. Satterwhite's work has been presented in numerous exhibitions both in the United States and in Europe, including most recently at Whitechapel Gallery, London (2019), The Museum of Modern Art (2019), the Minneapolis Institute of Art (2019), the Museum of Contemporary Art, Chicago (2018), Fondation Louis Vuitton (2018), New Museum (2017), Public Art Fund (2017), San Francisco Museum of Modern Art (2017), and the Institute of Contemporary Art, Philadelphia (2017). He was awarded the United States Artist Francie Bishop Good & David Horvitz Fellowship in 2016. His work is included in the collections of the Museum of Contemporary Art Kiasma, Helsinki; The Museum of Modern Art; the Studio Museum in Harlem; and the Whitney Museum of American Art, among others. In 2019, Satterwhite collaborated with Solange Knowles on her visual album When I Get Home. Upcoming solo shows will be presented in the fall of 2019 at Fabric Workshop and Museum in Philadelphia and Pioneer Works in New York.