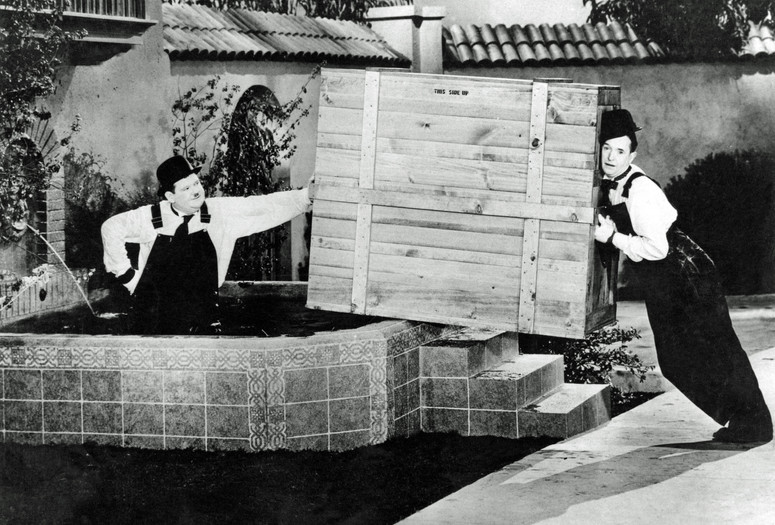 The films of Stan Laurel and Oliver Hardy have been almost literally loved to death. In almost constant release since they were first made, the classic Laurel and Hardy shorts and features have been copied and recopied, cut and recut, so many times over the decades that they today retain little of their original luster and technical polish. Thankfully, a major reclamation effort is underway at the UCLA Film & Television Archive, where the publicly financed Laurel and Hardy Preservation Fund is making it possible to restore the surviving original camera negatives. Our program includes three of UCLA's most recent restorations, courtesy Sonar Entertainment.
Busy Bodies. 1933. USA. Directed by Lloyd French. Another day at the sawmill for Stan and Ollie. 22 min.
The Midnight Patrol. 1933. USA. Directed by Lloyd French. A night on the job for beat cops Stan and Ollie ends when they arrest the wrong man for a burglary, leading to a memorably grim conclusion. 20 min.
The Music Box. 1932. USA. Directed by James Parrott. One of the greatest of all slapstick comedies (and, perhaps coincidentally, the winner of the Oscar for best comedy short of 1932), The Music Box possesses the simplicity of a fable and the impact of a Beckett play, as the boys attempt to deliver a packing crate containing an upright piano to a house located at the top of a long, long flight of stairs. 29 min.
Program 71 min.