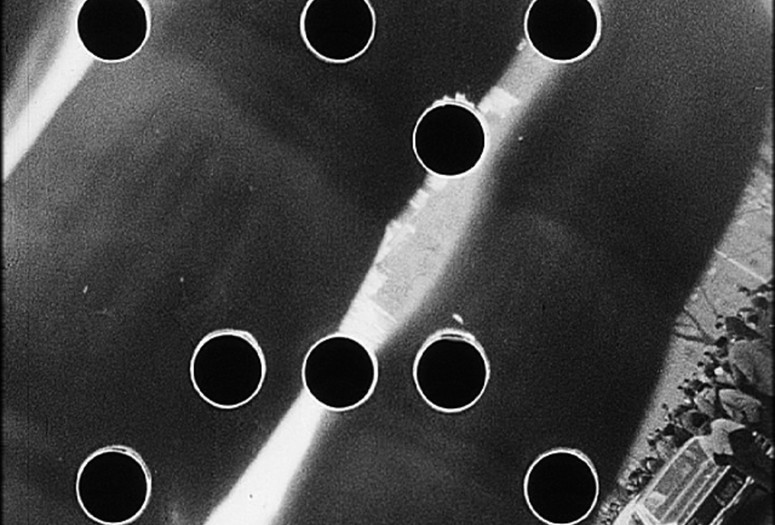 MoMA presents the world premiere of a recent discovery in its collection, Untitled Joseph Cornell Film (The Wool Collage), shown with the Museum's new restoration of Ken Jacobs's Perfect Film. Following the screening, Jacobs takes part in a discussion with Anne Morra, MoMA Associate Curator of Film, who organized this program.
Since 1995, The Museum of Modern Art has been home to the personal film collection of the artist Joseph Cornell, as donated to MoMA by the Joseph and Robert Cornell Memorial Foundation. The collection contains both films made by Cornell and those he purchased to entertain his disabled brother, Robert—which in turn became a source for the marvelous collage films (Rose Hobart and many others) that today are central to Cornell's accomplishments as a filmmaker. During the course of a 2011 research project, in which every can of film material in the Cornell collection was hand-inspected and cataloged, Morra and Film Conservation Manager Peter Williamson discovered a single 16mm reel that had been edited using Cornell's distinctive splicing tape. Originally identified as Collage Fragments on the inventory, study of the reel revealed a distinct narrative structure. With a grant from the National Film Preservation Foundation, new 16mm prints and a polyester negative were created from what is now identified as Untitled Joseph Cornell Film (The Wool Collage) (c. 1940–55).
Since 1955 Ken Jacobs has been making experimental films that repurpose found footage, often in combination with newly shot images or through optical manipulation of the original film. His Perfect Film (1985) may be Jacobs's most radical gesture in the use of found footage: the film consists entirely of an unedited reel of interviews with eyewitnesses to the assassination of Malcolm X, shot by a New York television station. Jacobs did nothing to alter the material, allowing the choices made by the unidentified cameraman as to who, what, and when to film, to create a spontaneous narrative. Perfect Film has been preserved by The Museum of Modern Art with support from the Celeste Bartos Fund for Film Preservation.
It is not surprising to learn that Jacobs worked for Cornell as a studio assistant in the 1950s. Both artists are masters of the manipulation of found footage, each taking the practice to very different ends with very different methods.
Untitled Joseph Cornell Film (The Wool Collage). c. 1940–55. USA. Directed by Joseph Cornell. 23 min.
Perfect Film. 1985. USA. Directed by Ken Jacobs. 21 min.
Program 75 min