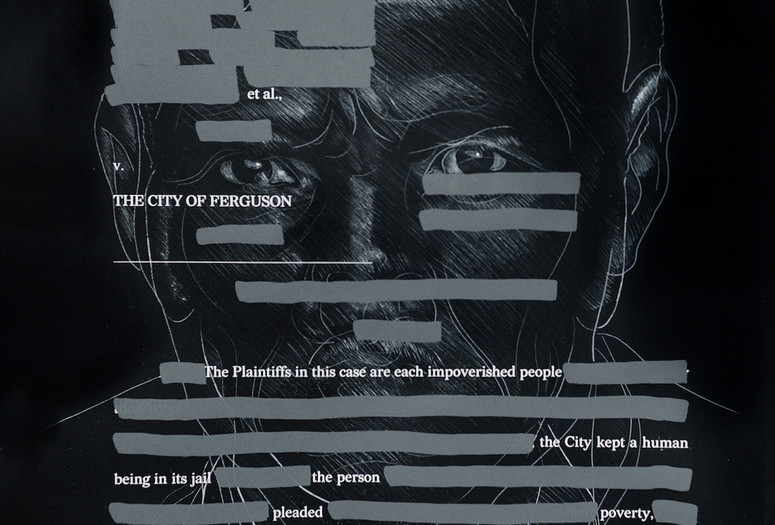 Redaction: A Project by Titus Kaphar and Reginald Dwayne Betts draws inspiration and source material from lawsuits filed by Civil Rights Corps (CRC) on behalf of people incarcerated because of an inability to pay court fines and fees. In this program, Alec Karakatsanis, lawyer and Executive Director of CRC, expands on the individuals featured in the suite of prints, their cases, and the broader work of CRC.
Civil Rights Corps is a non-profit organization dedicated to systemic litigation and advocacy that challenges the pervasive injustices in the American criminal legal system. Karakatsanis graduated from Yale College in 2005 and Harvard Law School in 2008, where he was a Supreme Court Chair of the Harvard Law Review. In addition to being the Founder and Executive Director of CRC, he is the author of Policing, Mass Imprisonment, and the Failure of American Lawyers, 128 Harv. L. Rev. F. 253 (2015), and The Human Lawyer, 34 N.Y.U. Rev. L. & Soc. Change 563 (2010). Within his work and advocacy, Karakatsanis is focused on ending human caging, surveillance, the death penalty, immigration laws, war, and inequality. He was awarded the 2016 Trial Lawyer of the Year by Public Justice for his role in bringing constitutional civil rights cases around the country to challenge the money bail system.
Organized by Sarah Suzuki, Curator, Department of Drawings and Prints, The Museum of Modern Art; with Jocelyn Miller, Assistant Curator, MoMA PS1.

The program of accompanying events is organized by Reginald Dwayne Betts in collaboration with Taja Cheek, Assistant Curator, and Alex Sloane, Assistant Curator, MoMA PS1.