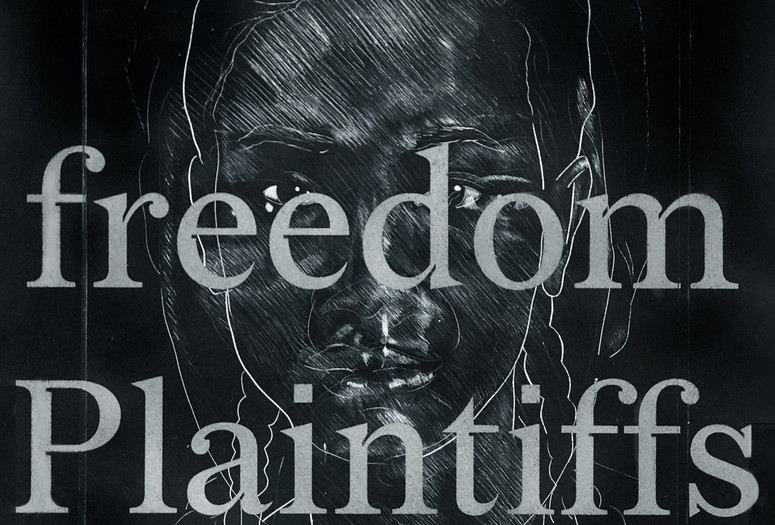 On the occasion of the opening of their exhibition Redaction: A Project by Titus Kaphar and Reginald Dwayne Betts, Titus Kaphar and Reginald Dwayne Betts will join Alec Karakastanis, Executive Director of the Civil Rights Corps, creative director Forest Young and type designer Jeremy Mickel for a conversation focused on the exhibition and the new typeface, Redaction, which is a typographic extension to Kaphar and Betts' work.
Redaction is meant to feel familiar, rooted in the history of Times New Roman and New Century Schoolbook as the de facto typefaces of legal documents in the United States. But the familiar has been abstracted and heightened—soft round forms are contrasted with razor-sharp terminals, a nod to the dichotomy of cruelty and kindness evident in the eagle grasping both arrows and an olive branch in the U.S. presidential seal. The letterforms also feature digital artifacts, or "notches," in the joins of the letterforms, a reference to the distortion of documents that have been faxed or photocopied after passing through numerous hands and machines. Redaction is available in regular, bold, and italic styles, as well as special bitmap versions that range from subtly analog to nearly illegible, an homage to the transformation and marginalization that many people face in the criminal justice system today.
The Redaction font is an open-source typeface and features throughout the artist's collaborative print portfolio. It's available to download as part of the project, in hopes that individuals looking to communicate within the U.S. legal system have recourse to communicate not just through their own distinct language and voice, but also through design as a form of protest.
Organized by Sarah Suzuki, Curator, Department of Drawings and Prints, The Museum of Modern Art; with Jocelyn Miller, Assistant Curator, MoMA PS1.

The program of accompanying events is organized by Reginald Dwayne Betts in collaboration with Taja Cheek, Assistant Curator, and Alex Sloane, Assistant Curator, MoMA PS1.