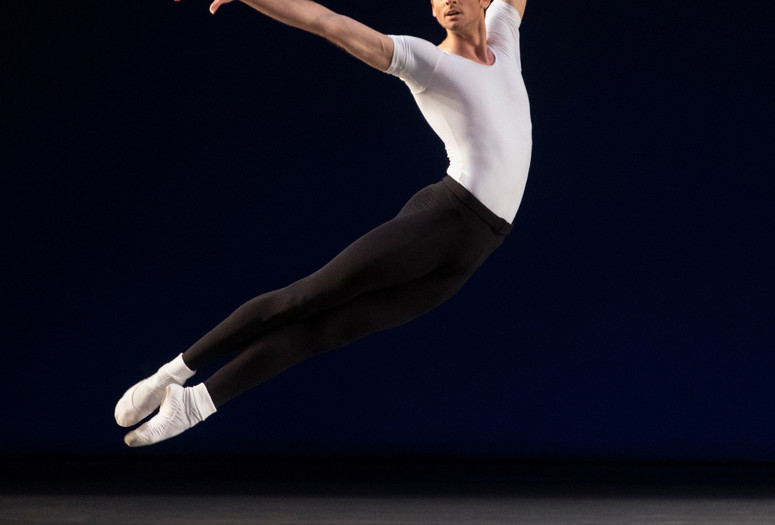 Presented in conjunction with the exhibition Lincoln Kirstein's Modern, this three-day event features 18 dancers from New York City Ballet in excerpts from four landmark works created by George Balanchine, the legendary choreographer who cofounded New York City Ballet with Lincoln Kirstein in 1948. NYCB corps de ballet member Silas Farley hosts the presentations and introduces excerpts, including selections from Concerto Barocco (1941) and Orpheus (1948), which were both performed at NYCB's inaugural performance on October 11, 1948, at New York City Center, MoMA's midtown neighbor on West 55th Street. The presentations in MoMA's Donald B. and Catherine C. Marron Atrium also includes excerpts from The Four Temperaments (1946) and Agon (1957), with all works danced to live piano accompaniment by NYCB Solo Pianist Elaine Chelton.
Admittance to Kirstein and Balanchine's New York City Ballet: Four Modern Works is included with Museum admission. Seating is limited and available on a first-come, first-served basis.
Dancers
Gonzalo Garcia
born Zaragoza, Spain
joined NYCB as principal 2007
Anthony Huxley
born Walnut Creek, CA
joined NYCB 2007
principal 2015
Sara Adams
born Dennis, MA
joined NYCB 2009
soloist 2017
Ashley Laracey
born Sarasota, FL
joined NYCB 2003
soloist 2013
Unity Phelan
born Princeton, NJ
joined NYCB 2013
soloist 2017
Peter Walker
born Fort Meyers, FL
joined NYCB 2012
soloist 2018
Devin Alberda
born Cleveland, OH
joined NYCB 2005
Marika Anderson
born Portland, OR
joined NYCB 2005
Eliza Blutt
born New York, NY
joined NYCB 2017
Meaghan Dutton-O'Hara
born New York, NY
joined NYCB 2012
Silas Farley
born Charlotte, NC
joined NYCB 2013
Laine Habony
born Dallas, TX
joined NYCB 2014
Baily Jones
born Holladay, UT
joined NYCB 2015
Olivia MacKinnon
born Mobile, AL
joined NYCB 2013
Jenelle Manzi
born Ridgewood, NJ
joined NYCB 2006
Miriam Miller
born Iowa City, IA
joined NYCB 2016
Andrew Scordato
born Sewell, NJ
joined NYCB 2006
Mary Elizabeth Sell
born Wilton, CT
joined NYCB 2009
Musician
Elaine Chelton
born Brooklyn, NY
NYCB Solo Pianist 1995
About New York City Ballet
New York City Ballet was founded in 1948 by the legendary choreographer George Balanchine and arts patron Lincoln Kirstein, and quickly became world renowned for its contemporary style and a repertory of original ballets that has forever changed the face of classical dance. In 1949 Jerome Robbins joined the Company as Associate Director and together with Balanchine created a vast and varied repertory that grew each season. From 1983 until his retirement in 2017, Peter Martins was the Company's Ballet Master in Chief. In 2009 Katherine Brown was named NYCB's first-ever Executive Director, a position created to oversee the administrative management of the Company and its long-time home, the David H. Koch Theater at Lincoln Center. In February 2019, NYCB named Jonathan Stafford Artistic Director and Wendy Whelan Associate Artistic Director.
Performances are produced by Lizzie Gorfaine, Producer, with Kate Scherer, Manager, Performance and Live Programs.

Piano by Steinway & Sons.

Lincoln Kirstein's Modern is organized by Jodi Hauptman, Senior Curator, and Samantha Friedman, Associate Curator, Department of Drawings and Prints.

The exhibition is supported by the Annual Exhibition Fund with major contributions from the Estate of Ralph L. Riehle, Alice and Tom Tisch, Mimi and Peter Haas Fund, Brett and Daniel Sundheim, Karen and Gary Winnick, The Marella and Giovanni Agnelli Fund for Exhibitions, and Oya and Bülent Eczacıbaşı.

MoMA Audio is supported by Bloomberg Philanthropies.