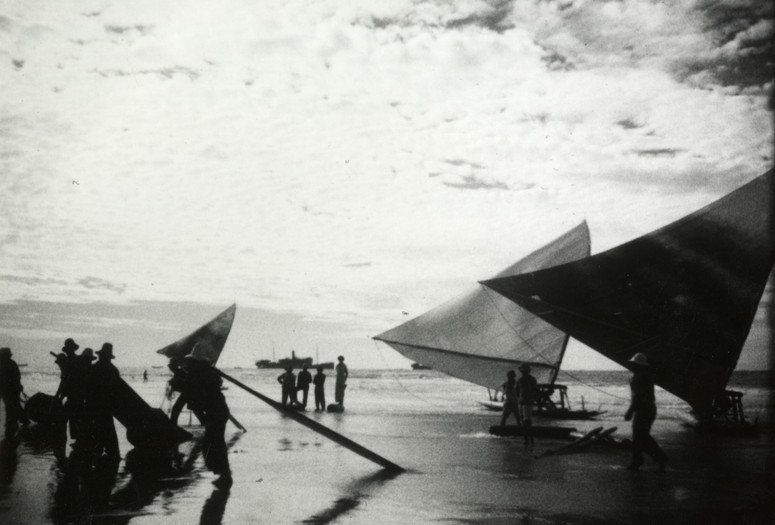 Following his work on Citizen Kane, and while he was still completing The Magnificent Ambersons, Orson Welles traveled to Brazil at the request of the Inter-American Affairs office to make a film in the interest of "hemispheric solidarity." A story of his time there, and the catastrophes that befell him, are chronicled in this revealing documentary, which also features extraordinary rushes from what was to be the work's centerpiece, "Four Men on a Raft." Welles's film was planned as an anthology, with an episode about the history of samba as well as a recreation of the epic journey of four fisherman who sailed from Fortaleza to Rio over two months to draw attention to the plight of their region. Kirstein stood by Welles, as he had with Eisenstein, and became a staunch defender ("the picture must be saved," he demanded in a letter to Nelson Rockefeller), but tragically, as with ¡Que viva México!, support for the production was cut off, and the work never completed. It's All True is here counterposed with a recording of Balanchine's seminal ballet The Four Temperaments, offering a window onto Kirstein's dual advocacy in the 1940s for dance and cinema alike.
The Four Temperaments. 1946. USA. Choreography by George Balanchine. With the original Ballet Society cast. 16mm. 27 min.
Print courtesy of the New York Public Library
It's All True. 1993. USA/Brazil. Directed by Richard Wilson, Bill Krohn, Myron Meisel, with Orson Welles. DCP. 87 min.
Premiere of the restored DCP, courtesy of Paramount