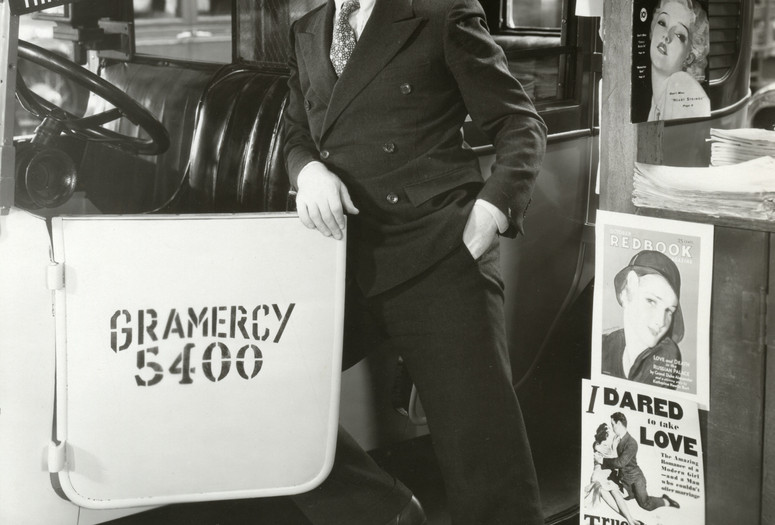 "In America there are men and boys lounging in front of drugstores, easing down off trucks, lifting up the hoods of their engines, sighting for a cue on a billiard table, tossing down their little pony of raw whiskey, or even shooting through the pocket of their double-breasted tuxedos." Kirstein located a comportment particular to the United States that moviegoers recognized in Cagney, an actor who represented, for Kirstein, the evolution of a new, specifically metropolitan, national type. The observation rhymes, notably, with his conception of how an American mode of ballet would diverge from the Russian ("Ours is a style bred from basketball courts, track and swimming meets and junior proms."), and this screening presents a chance to consider Ballet Caravan's Billy the Kid next to Kirstein favorite Taxi! Cagney stars as a cosmopolitan cab driver—hailing from Ireland by way of Delancey Street, he quips after an exchange in Yiddish—who becomes embroiled in a battle against a corrupt taxi syndicate. He brings to the role a smirking, hot-tempered charisma, embodying what Kirstein dubbed "the tendency towards destruction, towards anarchy, which is the basis of American sex appeal."
Billy the Kid. 1938. USA. Choreography by Eugene Loring. Scenario by Lincoln Kirstein. DCP. 5 min.
Taxi! 1932. USA. Directed by Roy Del Ruth. Screenplay by John Bright, Kubec Glasmon, based on the play by Kenyon Nicholson. With James Cagney, Loretta Young, George E. Stone. 16mm. 69 min.