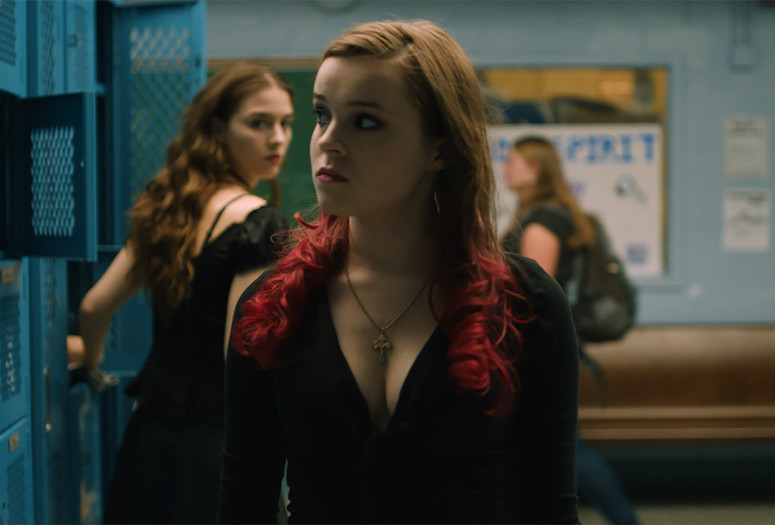 Blame. 2018. USA. Directed by Quinn Shephard. 100 min.
It's the start of a new year at a small suburban high school, and eternal outcast Abigail (Quinn Shephard) is returning for the first time since a mysterious event the previous year. Facing constant bullying, Abigail escapes her hostile surroundings by immersing herself in the characters she reads about in books—much to the amusement of her manipulative classmate Melissa (Nadia Alexander).
When the girls' intriguing new drama teacher Jeremy (Chris Messina) announces Arthur Miller's The Crucible as their fall show, and casts Abigail over Melissa in the starring role, Abigail's confidence blooms. But her relationship with Jeremy begins to move beyond the fantasy world she's constructed. This taboo bond strikes a nerve in Melissa, fueling a vengeful jealousy that quickly spirals out of control—and kicks off a chain of events chillingly reminiscent of the madness of Salem.
Quinn Shephard was just 20 when this daring exploration of consent was released, but she'd begun writing the script, based on her own experiences, seven years prior. Shephard was the youngest female director at the 2017 Tribeca Film Festival, and Blame earned a 2019 Independent Spirits Awards nomination for Best First Screenplay.
Happy Birthday, Marsha! 2018. USA. Directed by Sasha Wortzel, Tourmaline. 14 min.
Happy Birthday, Marsha! commemorates black transgender activist and performer Marsha "Pay It No Mind" Johnson and her role in instigating the 1969 anti-policing riots at the Stonewall Inn, a watershed event for the gay liberation movement.
This film will be presented with open captions and descriptive audio.