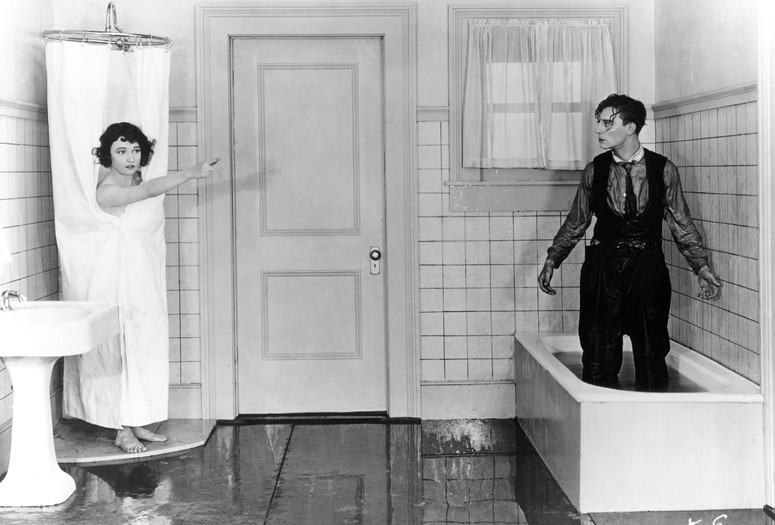 One Week. 1920. USA. Written and directed by Buster Keaton, Eddie Cline. With Buster Keaton, Sybil Seely, Joe Roberts. 19 min.
Newlyweds (Keaton and Seely) are given a portable house as a gift. It should take only one week to put the house together, but Keaton's rival has switched the numbers on the crates containing the parts, making the project much more challenging.
The Lonedale Operator. 1911. USA. Directed by D. W. Griffith. Screenplay by Mack Sennett. With Blanche Sweet, Francis J. Grandon. 14 min.
When her father becomes ill, a young woman takes over the telegraph at a lonely Western railroad station. She soon gets word that the next train will deliver the payroll for a mining company. The train brings not only the money, but a pair of ruffians bent on stealing it. All alone, she wires for help, and then holds off the bad guys until it arrives.
Enjoy new and classic family-friendly short films, engaging discussions, and suggestions for follow-up activities in the Museum's galleries. This program is for individual families of up to two adults and up to three kids.
View more Family Programs.

Tickets: Free tickets are distributed on a first-come, first-served basis starting at 10:00 a.m. on the day of the program at the information desk in the Education and Research Building, at 4 West 54 Street.

Contact: (212) 708-9805 or [email protected]

Accessibility: Sound amplification devices are available for all programs. All theaters are equipped with loop systems and are wheelchair accessible.