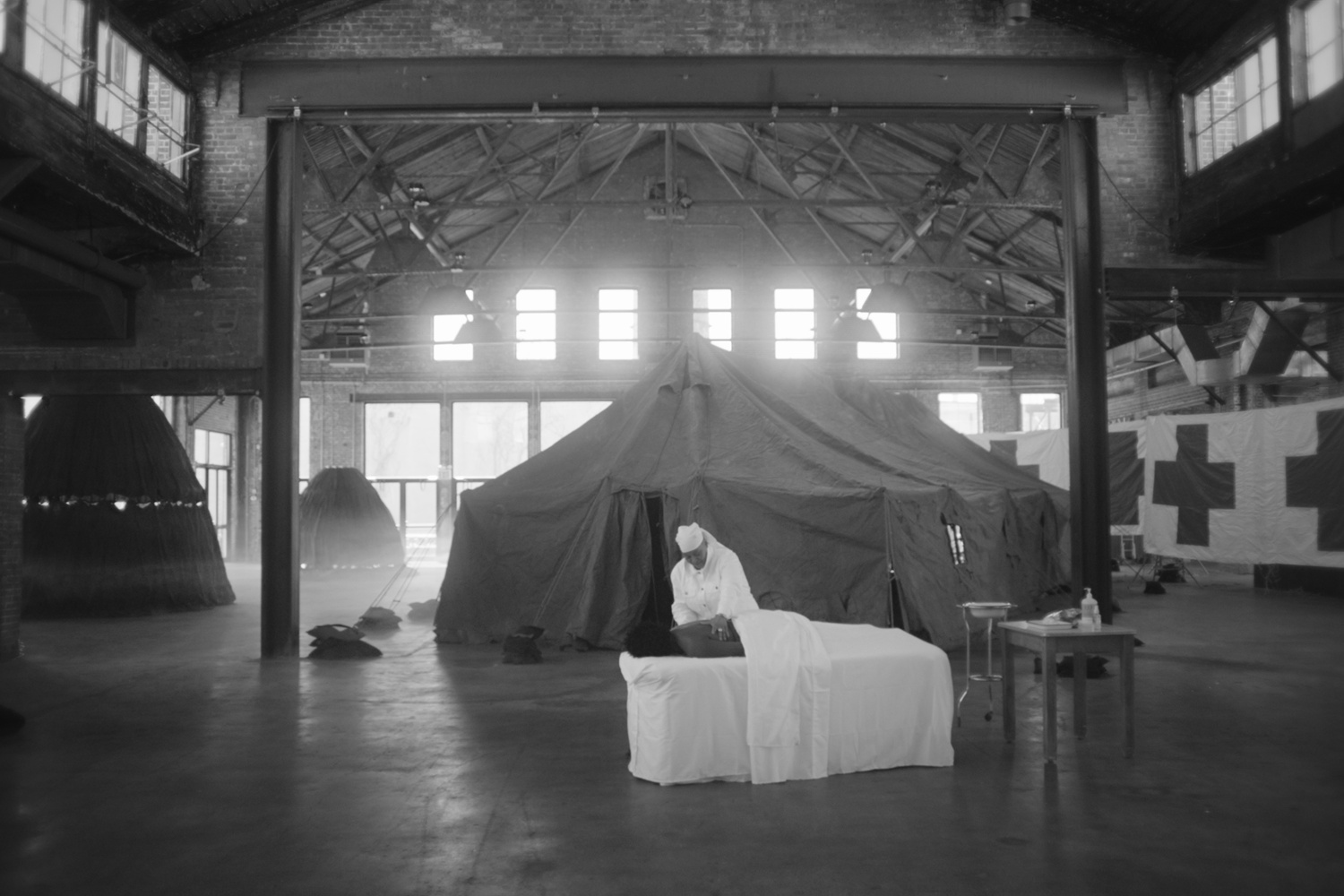 For this session, artist Simone Leigh hosts an open discussion about responses to archival material as means for highlighting resistance. Participants will watch Leigh's film Untitled (M*A*S*H) and talk about overlooked stories, the politics of caring, spaces of women's labor, the value of the public archive, and the black female body.
Leigh's practice incorporates sculpture, video, and installation, all informed by her ongoing exploration of ethnography and black female subjectivity. Her objects often employ materials and forms traditionally associated with African art, and her performance-influenced installations create spaces where historical precedent and self-determination commingle. Through her investigations of visual overlaps between cultures, time periods, and geographies, she confronts and examines ideas of the female body, race, beauty, and community.
Leigh was born in 1967 in Chicago, Illinois. She is a recipient of the Hugo Boss Prize (2018), the Foundation for Contemporary Art Grant (2018), a Joyce Alexander Wein Artist Prize (2017), a John Simon Guggenheim Fellowship (2016), an Anonymous Was a Woman Award (2016), a Herb Alpert Award for Visual Art (2016), the A Blade of Grass Fellowship for Socially Engaged Art (2016), and the Louis Comfort Tiffany Foundation Biennial Award (2013). Recent projects and exhibitions include Trigger: Gender as a Tool and as a Weapon (2017) at the New Museum of Contemporary Art, New York; Psychic Friends Network (2016) at Tate Exchange, Tate Modern, London; The Waiting Room (2016) at the New Museum of Contemporary Art; The Free People's Medical Clinic (2014), commissioned by Creative Time; in Harlem, a public installation presented by The Studio Museum in Harlem at Marcus Garvey Park, New York; and a solo exhibition at the Hammer Museum, Los Angeles. Leigh is the first artist to be commissioned for the High Line Plinth, where she will present a new monumental sculpture starting in April 2019.
A reception will take place from 8:00 to 8:30 p.m.
This program is free, but an application form is required. For more information, please contact adultprograms@moma.org.
Art and Practice is a series of seminars and workshops that bring together emerging and experienced artists. Together they explore the challenges and possibilities of sustaining a creative life.
This program is free but requires the submission of a response form. For more information, please contact adultprograms@moma.org.
Education at MoMA is made possible by a partnership with Volkswagen of America.
Major support for Adult and Academic Programs is provided by the Estate of Susan Sabel.
Generous funding is provided by endowments established by Agnes Gund and Daniel Shapiro, The Junior Associates of The Museum of Modern Art, Walter and Jeanne Thayer, and by the gifts of Alan Kanzer. Additional support is provided by the Annual Education Fund.