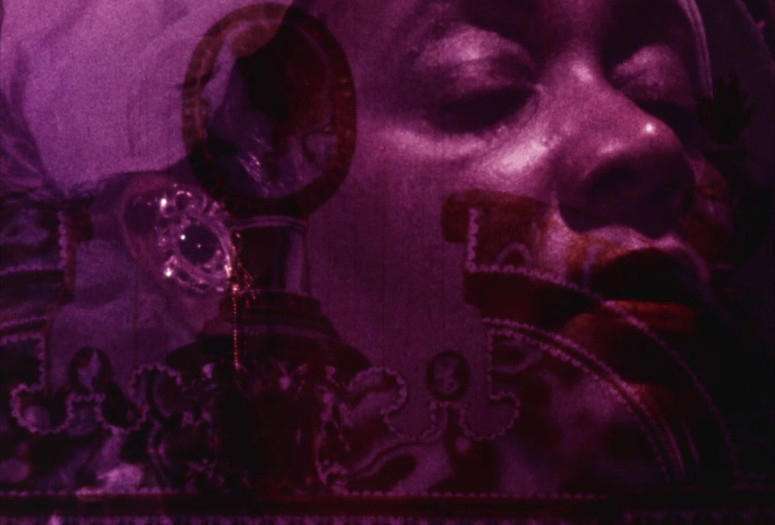 To Save and Project brings to light the brief but astonishing film career of Edward Owens, marginalized for decades as a gay African American artist. The three surviving experimental films Owens made in late-1960s New York and his native Chicago as an 18-year-old newcomer to New York's underground cultural demimonde (where he befriended Charles Boultenhouse and Gregory Markopoulos) are intimate and visionary. We present these precious works in recent digital preservations by The Film-Makers' Cooperative.
Digital preservations courtesy The Film-Makers' Cooperative. Program approximately 60 min.
Private Imaginings and Narrative Facts. 1968–70. USA. Directed by Edward Owens. 9 min.
"Originally titled Mildered Owens: Toward Fiction, the achingly silent Private Imaginings and Narrative Facts focuses more directly on [the filmmaker's] mother, setting her regal depiction amidst delicate pulses of editing and oblique superimpositions, evoking the gap between the homebound realities of life and desires for far-off luxury and refinement" (Ed Halter).
Remembrance: A Portrait Study. 1967. USA. Directed by Edward Owens. 6 min.
"The music is by Marilyn Monroe singing 'Running Wild' from Some Like It Hot, because it's a film portrait of Nettie Thomas. She did floors in white women's homes, like black women did to support their families in the olden days. My mother is sitting in a wicker chair with an ostrich feather boa, a grey worsted wool skirt, a silk belt. For her portrait, I used 'All Cried Out' by Dusty Springfield…. I was advised by Gregory Markopoulos not to play the music. Because Gregory didn't think it was proper" (Edward Owens).
Tomorrow's Promise. 1967. USA. Directed by Edward Owens. 45 min.
"A montage of still and moving images, mixing and alternating black people and white people, fantasy and reality, a presidential suite and a mother's kitchen: a sensitive, poetic evocation in the manner of the film-maker's Remembrance. Brilliantly colored and nostalgic, it comprises a magical transformation of painterly collage and still photographic sensibility into filmic time and space" (Charles Boultenhouse).