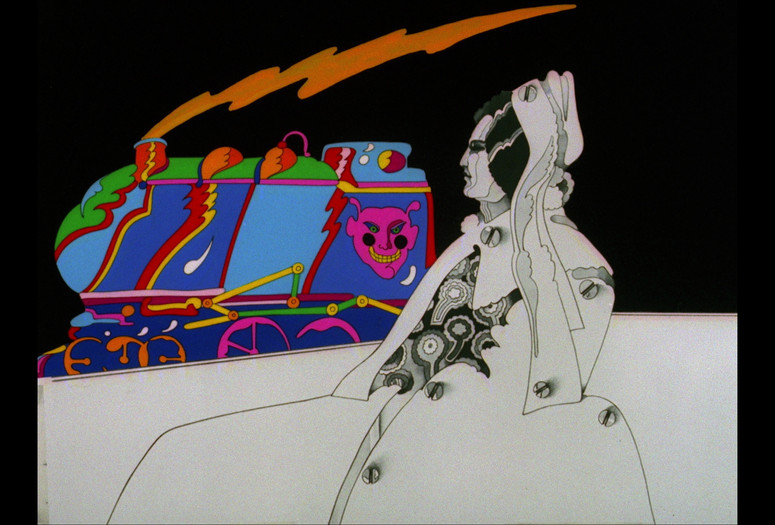 On January 11, the award-winning New York–based filmmaker George Griffin presents Lineage, his smart and funny mash-up of animation history, documentary self-portraiture, and Conceptualism. Drawing (literally) upon an entire century of animation techniques, Griffin also introduces a program on the history of British animation.
Lineage. 1979. USA. Directed and animated by George Griffin. Newly preserved by The Museum of Modern Art
A History of British Animation, 1906–94
Take a whirlwind tour of British history through this stirring selection of recently preserved animated films from the BFI National Archive. Selected by Jez Stewart, the program encompasses turn-of-the-century trick films and anti-Nazi cartoon propaganda, psychedelia of the 1960s and post-Thatcherite class satire. All films preserved by the BFI; descriptions by Jez Stewart. Program approximately 105 min.
Sorcerer's Scissors. 1907. Directed and animated by Walter Booth. Mixing live-action, cut-out animation, statue smashing, and dancing scissors, this is one of the earliest animated films in the BFI National Archive.
Animated Doll and Toy Town Circus. 1912. Directed and animated by G. A. Smith. Stop-motion film using toys and dolls. A female doll smokes. Circus scenes with horses and clowns.
Ever Been Had? 1917. Directed and animated by Dudley Buxton. The man on the Moon meets the last Englishman on Earth, in a clever mix of propaganda, science fiction, and comedy, with a killer punchline.
Booster Bonzo; Or, Bonzo in Gay Paree. 1925. Britain's answer to Felix the Cat hitches a ride to Paris, chats up a barmaid, and goes a little overboard on vin rouge.
Shadows. 1928. Directed and animated by Joe Noble. Sammy and his dog Sausage were a cartoon double act of the 1920s, but they costarred with their creator,  the innovative animator Joe Noble. Cleverly interacting with his pen-and-ink creations, in this episode Joe comes off worse in a bout of shadowboxing.
Fox Hunt. 1936. Directed and animated by Hector Hoppin and Anthony Gross. A Technicolor follow-up to the modernist masterpiece Joie de Vivre (1934), traveling from the English countryside to its new suburban towns.
Adolf's Busy Day. 1940. Directed and animated by Lawrence Wright. Wright was an architect who turned his hobby into a vocation, using animation to take Herr Hitler down a peg or two in this comic propaganda cartoon.
Do It Yourself Cartoon Kit. 1959. Produced by Biographic. An irreverent but affectionate poke at the pretensions of the industry, enlivened by the creative spirit and offbeat humor of Bob Godfrey.
Transformer. 1968. Produced by Trickfilms. All aboard the psychedelic steam engine. Key creatives from Yellow Submarine (1968), including Heinz Edelmann, produced this stunning animation festival trailer.
The Ladder. 1967. Directed and animated by George Dunning. This Dunning short sees his art pared back to the barest of brushstrokes. Simple daubs of color make up our cast of characters in a stark tale that elevates cartoon logic to a fine art.
Mr. Pascal. 1979. Directed and animated by Alison De Vere. A spiritual tale of remarkable humanity, going beyond religion to show faith in the value of small gestures of kindness.
Night Club. 1983. Directed and animated by Jonathan Hodgson. A vicarious night out lived through an animated sketchbook, offering a boiling, colorful study of human behavior laid down to a hypnotic post-punk beat.
Britannia. 1993. Directed and animated by Joanna Quinn. A concise, caustic history of the British Empire, which sees the British bulldog let off the leash but brought firmly to heel.
Queen's Monastery. 1998. Directed and animated by Emma Calder. An acrobat returns from the military to the woman who loves him, but comes back a changed man. Love and war played out to the music of Leos Janácek in a strikingly unique watercolor style.