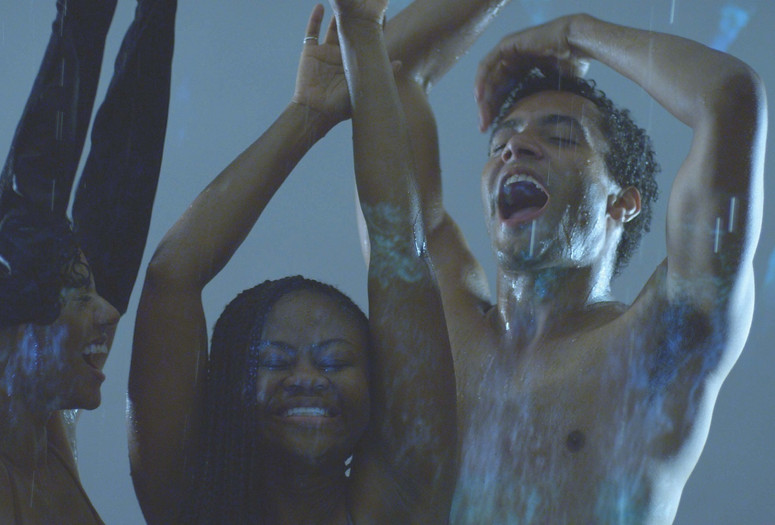 The inaugural Black Women's Film Conference will convene Black women from all over the country to screen work, exchange filmmaking strategies, and build community. Offering a space that centers Black women's voices and experiences, this conference provides a vital alternative to a white, male-dominated film industry. Featuring screenings, talkbacks, and roundtables in a mix of intimate and communal spaces, the conference explores the current landscape of Black women's cinema and the intersections of history, film theory, filmmaking, and political action.
The Black Women's Film Conference is co-organized with The New Negress Film Society, a core collective of Black women filmmakers whose priority is to create community and spaces of support, exhibition, and consciousness-raising. Now active for four years, the group is formed by Chanelle Aponte Pearson, Frances Bodomo, Dyani Douze, Ja'Tovia Gary, and Stefani Saintonge, and focuses primarily on works that break boundaries in film politically and artistically. Womanist in their content and experimental in form, these are often some of the most challenging works for a marginalized filmmaker to create and distribute. The collective has presented at institutions including the Brooklyn Museum, Anthology Film Archive, Hammer Museum, Cooper Union, Ann Arbor Film Festival, Afrikana Independent Film Festival, NY Media Center, Indiana University Cinema, and the South Dallas Cultural Center.
SCHEDULE
1 p.m. Welcome remarks
1:20 p.m. Screenings, shorts
SONG FOR EARTH AND FOLK (2013)
Triangle Trade (2017)
The Changing Same (2011)
THREE SONGS ABOUT LIBERATION (2017)
SOJOURNER (2018)
2 p.m. Conversation: An Afternoon with Cauleen Smith (moderated by Ja'Tovia Gary)
3 p.m. Screening: Douvan Jou Ka Leve (2017, 51 min) by Gessica Généus
3:30 p.m. Conversation: Gessica Généus moderated by Yvonne Michelle Shirley & Stefani Saintonge
4:30 p.m. Screenings, Shorts
To Be Free (2017) by Adepero Oduye
An Excavation of Us (2017) by Shirley Bruno
Suicide by Sunlight (2018) by Nikyatu
1968 < 2018 > 2068 (2018) by Keisha Rae Witherspoon
5:30 p.m. (Re) Envisioning a New Creative World: an extended conversation with filmmakers Adepero Oduye, Shirley Bruno, Nikyatu, and Keisha Rae Witherspoon. (Moderated by Chanelle Aponte Pearson and Nuotama Bodomo)
6:00 p.m. Solace (2018) by Tchaiko Omawale
7:30 p.m. Tchaiko Omawale in conversation (Moderated by Ja'Tovia Gary)
8 p.m. Reception + DJ Set with DOUZE
Schedule subject to change.
Tickets:
General Admission: $15
MoMA / MoMA PS1+ Members: $13
Members can secure advance tickets in person at the MoMA PS1 Box Office or by calling 718-784-2086.
MoMA PS1's acclaimed VW Sunday Sessions performance series welcomes visitors to experience and participate in live art. Since its founding in 1976, MoMA PS1 has offered audiences one of the most extensive programs of live performance in the world. VW Sunday Sessions highlights artists responding to contemporary social and political issues through a wide variety of creative and critical lenses. Encompassing performance, music, dance, conversation, and film, the series develops and presents projects by established and emerging artists, scholars, activists, and other cultural instigators. With a focus on artists that blur and break traditional genre boundaries, VW Sunday Sessions embraces the communities in New York City that create and sustain artistic practice.
Since 2012, VW Sunday Sessions has presented a commissioning program resulting in new work by Trajal Harrell, Mårten Spångberg, Anne Imhof, Tobias Madison and Matthew Lutz Kinoy, Hannah Black, and Colin Self. Additionally, the VW Dome Artist Residency offers a platform for creative development and experimentation for artists at all stages of the creative process.
VW Sunday Sessions is organized by Taja Cheek, Assistant Curator, and Alex Sloane, Assistant Curator, with Alexandra Rosenberg, Associate Producer, Chris Masullo, Production Coordinator, Eliza Brennessel, Performance Coordinator, and Enrique Alba, Production Assistant.

VW Sunday Sessions and the VW Dome at MoMA PS1 are made possible by a partnership with Volkswagen of America, who have supported the program since its inception.

Major support is provided by the Anna-Maria and Stephen Kellen Foundation.

Dance programming as part of VW Sunday Sessions at MoMA PS1 is supported in part by the Mertz Gilmore Foundation.