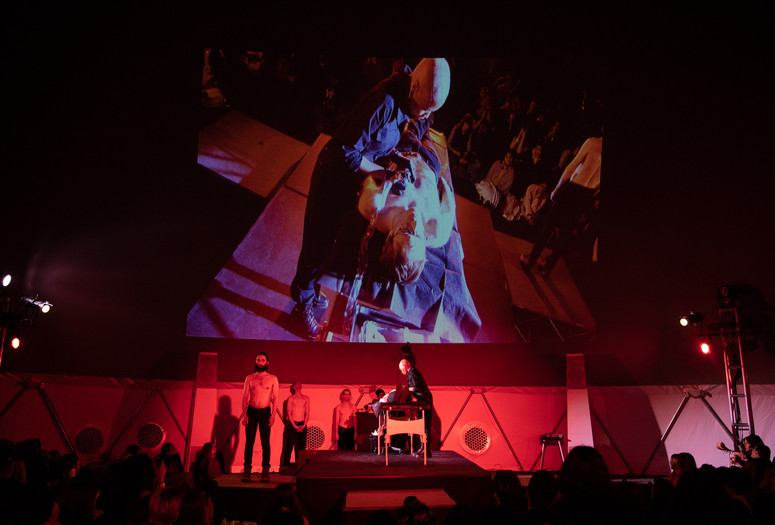 Alternative Modes of Penetration is a series of performances organized by Doreen Garner that engage with the practice of tattooing. Shifting focus away from the permanent images produced by tattoo artists, these performances highlight elements of the tattoo process that often go unnoticed, such as the submissive and dominant roles between tattoo artist and subject, the relationship between sound and skin tension, the physical limits of human flesh, and experiences of voyeurism, violence, and vulnerability. A licensed tattoo practitioner, Garner performs with tattoo artists Anderson Luna and Tamara Santibañez, along with collaborator Tommy Martinez.
In one performance, Doreen Garner will create symbols that reference colonization and the triangular trade between Europe, Africa, and America in the 18th and 19th centuries. Casting white men as sculptural material, and using water instead of ink, Garner will tattoo the skin with inflammation alone, creating distinguishing marks that shame without reward and fade over time. In another performance, Anderson Luna and Tommy Martinez explore the range of sound produced while tattooing the head of performer Anwar Isaacs, using the tension of the skin and the tattoo equipment as raw material for improvised, spatialized live audio processing. Finally, Tamara Santibañez will tattoo Domina Jia as Yin Quan binds them with Shibari-style bondage, intensifying the dominant and submissive roles of tattoo artists and their subjects.
This is one of six new commissions presented as part of VW Sunday Sessions 2018/2019. The VW Sunday Sessions commissioning program supports local and international emerging artists in the development and presentation of new performance work
Tickets:
General Admission: $15
MoMA / MoMA PS1+ Members: $13
VW Sunday Sessions is organized by Taja Cheek, Assistant Curator, and Alex Sloane, Assistant Curator, with Alexandra Rosenberg, Associate Producer, Chris Masullo, Production Coordinator, Enrique Alba, Production Assistant, and Cody Simons, Production Assistant.

VW Sunday Sessions and the VW Dome at MoMA PS1 are made possible by a partnership with Volkswagen of America, who have supported the program since its inception.

Major support is provided by the Anna-Maria and Stephen Kellen Foundation.

Dance programming as part of VW Sunday Sessions at MoMA PS1 is supported in part by the Mertz Gilmore Foundation.