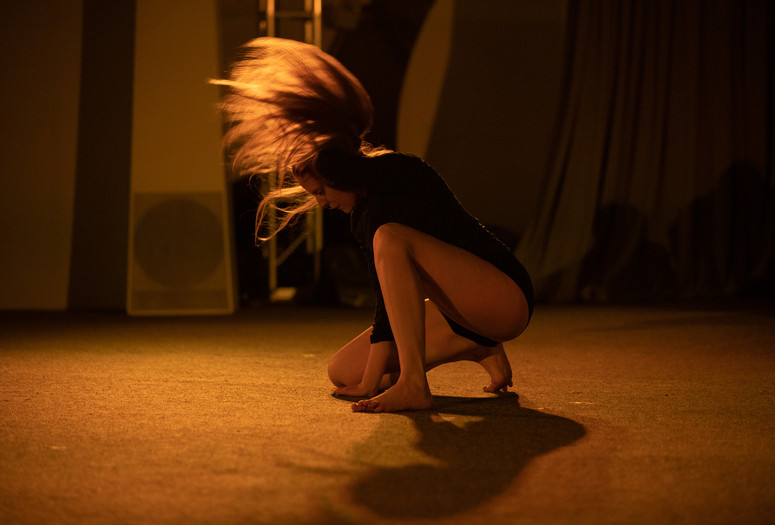 This open studio showing marks the culmination of Emily Wexler's six-week VW Dome Artist Residency during which she will continue to workshop existing ideas and scores. Working in collaboration with two dancers and a pianist, Wexler considers how pain, resilience, and hope fluctuate and fragment within our bodies. Working from memory and internal sensations, Wexler asks her dancers to visualize a harmful event and cognitively place these images inside their bones. Responding to the space while using touch and a movement-based improvisational score, the dancers attempt to extract sorrow from their bodies. As the score concludes, additional performers carrying an abundance of flowers join from the audience, transforming the work from a minimal and interior space into one loud with music and full of dancing.
Now in its third year, the VW Dome Artist Residency offers artists space, time, and resources to generate new ideas and experiment. The open format allows artists to create new content, collaborate, workshop new gestures or concepts, and respond directly to the unique space of the VW Dome. Previous artists-in-residence include Moriah Evans, Gillian Walsh, Phoebe Berglund, Kim Brandt, and Nikima Jagudajev.
VW Sunday Sessions is organized by Taja Cheek, Assistant Curator, and Alex Sloane, Assistant Curator, with Alexandra Rosenberg, Associate Producer, Chris Masullo, Production Coordinator, Enrique Alba, Production Assistant, and Cody Simons, Production Assistant.

VW Sunday Sessions and the VW Dome at MoMA PS1 are made possible by a partnership with Volkswagen of America, who have supported the program since its inception.

Major support is provided by the Anna-Maria and Stephen Kellen Foundation.

Dance programming as part of VW Sunday Sessions at MoMA PS1 is supported in part by the Mertz Gilmore Foundation.