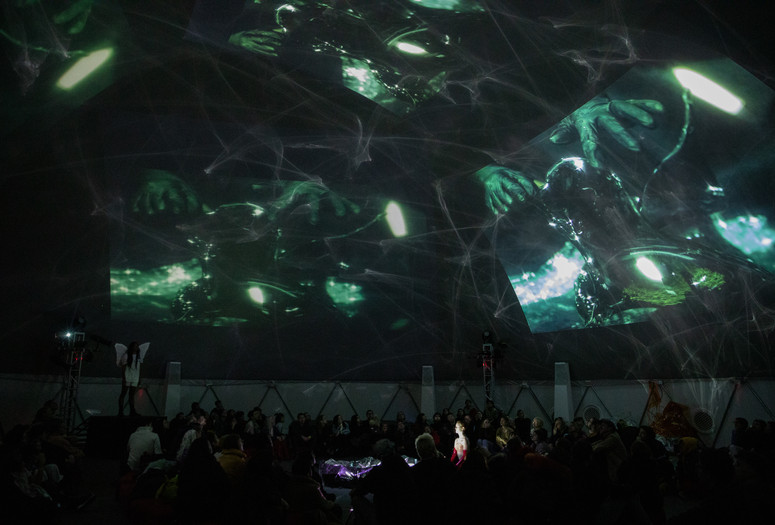 7 Sisters is an immersive performance that explores the changing states and cultural resonance of oil through an internal nexus of empowerment and activation. The performance is organized into seven acts that each integrate sculptural environments with spatialized choreography supported by music, poetry, video projections, and scents. A printed playbill that is an editioned take-away accompanies the work.
This performance is the first of seven that continue Dunham's research into the materiality of oil and the restorative nature of darkness. Alluding to mythology and industry, Dunham considers how the use of oil morphed from a natural source of healing and sustenance to a means through which light enters the darkness, negating rest and extending labor around the clock. The title references both the seven nymphs from Greek mythology who transformed into a cluster of stars and the seven oil companies that entered into the Iranian Consortium Agreement of 1954, monopolizing the global petroleum industry and access to oil from the mid-1940s to the mid-1970s.
7 Sisters is presented in collaboration with Meriem Bennani, Aaron Chan, Kai de la Cruz, Patrick Dunham, Bobbi Menuez, Sky Murray, Lydia Okrent, Antonio Santini, Darrelle Vary, and Marty Windahl. The score was composed with Finn Keane, Sophie, umru, and Cecile Believe.
Tickets:
General Admission: $15
MoMA / MoMA PS1+ Members: $13
There will be a performance at 3 p.m. and 5 p.m.
VW Sunday Sessions is organized by Taja Cheek, Assistant Curator, and Alex Sloane, Assistant Curator, with Alexandra Rosenberg, Associate Producer, Chris Masullo, Production Coordinator, Enrique Alba, Production Assistant, and Cody Simons, Production Assistant.

VW Sunday Sessions and the VW Dome at MoMA PS1 are made possible by a partnership with Volkswagen of America, who have supported the program since its inception.

Major support is provided by the Anna-Maria and Stephen Kellen Foundation.

Dance programming as part of VW Sunday Sessions at MoMA PS1 is supported in part by the Mertz Gilmore Foundation.