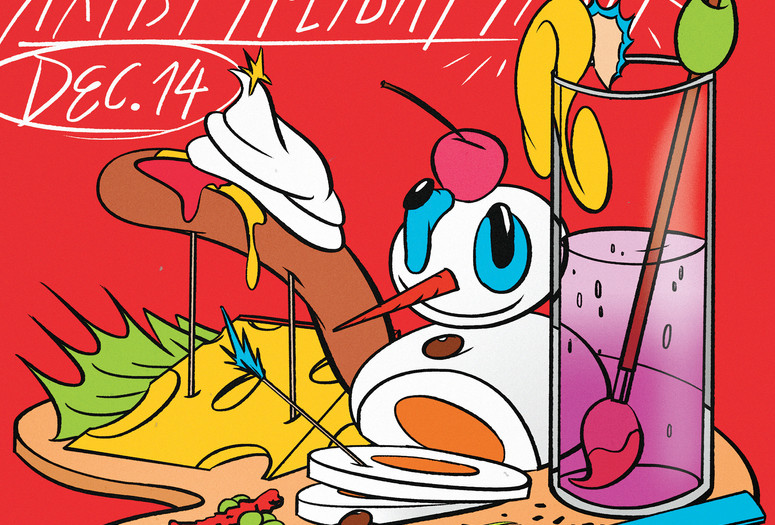 Join artists and friends for a wintry Night at the Museum. Ring in the holidays with a performance by Bonaventure and after-hours access to Bruce Nauman: Disappearing Acts. Get cozy in the VW Dome with hot chocolate and churros by La Newyorkina and mulled wine by Pumphouse Wines.
Shop for one-of-a-kind handmade ceramics at the International Space Station, a collaborative project featuring work by more than 100 artists, with 100% of the profits benefiting organizations including Wide Rainbow, Gays Against Guns, Critical Resistance, Greenwich House Pottery, Earth Day Initiative, and the Immigrant Defense Project.
International Space Station is organized by Pam Lins, Halsey Rodman, Trisha Baga, and Ceramics Club (CC), with Greenwich House Pottery.
Hosted by International Space Station:
Rachel Harrison | Stanley Whitney | Sam Moyer | Nicole Eisenman | Halsey Rodman | Trisha Baga | Rin Johnson | Kamrooz Aram | Amy Sillman | Lena Henke | Andrew Ross | Tom Sachs | Allison Brainard | Daphne Fitzpatrick | Matt Keegan | Ricci Albenda | Anna Craycroft | Joanne Greenbaum | Josh Kline | Miranda Lichtenstein | Mary Manning | Ulrike Müller | Rirkrit Tiravanija | Cameron Martin | Kenneth Tam | David Reinfurt | Hannah Gadsby | Amy Yao | Cassie Griffen | Marley Freeman | Maryam Hoseini | Monique Mouton | Marina Adams | Kathryn Kerr | Anne Libby | Samuel Budin | Dmitri Hertz | Adam Welch | Erica Wessmann | Brandon Ndife | David Roesing | Phoebe d'Heurle | Hadi Fallahpisheh | Sophie Grant and many more.