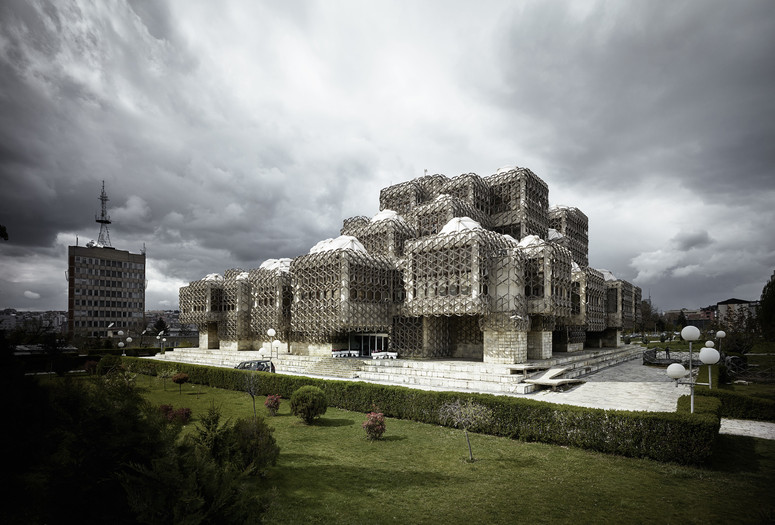 In conjunction with Toward a Concrete Utopia: Architecture in Yugoslavia, 1948–1980, this evening's discussion expands on three issues central to the exhibition: common history, collective civic space, and community building.
Beti Žerovc, Associate Professor, Faculty of Arts, University of Ljubljana, addresses common history; Branislav Dimitrijević, Professor of History and Theory of Art, College of Art and Design, Belgrade, discusses the idea of collective civic space; and Ana Džokić and Marc Neelen of STEALTH.unlimited address community building. Following the presentations, Zagreb-based architect, critic, and curator Maroje Mrduljaš moderates a roundtable discussion on how Yugoslavia's architectural legacy can be seen as a model to produce better architecture and more equitable cities today. Exhibition co-organizers Vladimir Kulić and Martino Stierli introduce the program.
Please join us for a reception following the program.
Presenters
Ana Džokić and Marc Neelen form the international spatial practice STEALTH.unlimited (2000), based both in Belgrade and Rotterdam. STEALTH's work is situated between future fiction, spatial intervention, and the politics of possibility. Their recent book Upscaling, Training, Commoning (2018) traces STEALTH's attempts, following the 2008 financial crisis, to reframe practice, to rethink economy through collective citizens' capacity, and to create urban commons. Essential in this are long-term, community-based engagements that deal with the unsustainability of current housing conditions. In Belgrade, they are co-initiating a new breed of non-speculative collective housing that evades the realm of commodity.
Branislav Dimitrijević is a professor of the history and theory of art at the College of Art and Design in Belgrade. He teaches and writes internationally on the art and culture of socialist Yugoslavia, and his most recent books are Consumed Socialism (2016) and Dušan Makavejev's Sweet Movie (2017). His site-specific curatorial projects include No Network (2011), an exhibition in the largest Yugoslav nuclear bunker, in Konjic, Bosnia. Dimitrijević received his MA in the history and theory of art from the University of Kent, and his PhD in cultural studies from the University of Arts in Belgrade.
Maroje Mrduljaš is an architect, critic, and curator based in Zagreb. He is the author of Tadao Ando: Transcending Oppositions, Modernism-in-Between: Mediatory Architectures of Socialist Yugoslavia (with Vladimir Kulić), Design and Independent Culture, and others. Mrduljaš's writings have appeared in leading international magazines including A+U, Archithese, Bauwelt, and Domus, and he is editor-in-chief of Oris magazine. His curatorial activities include projects for the Museum of Contemporary Art, Zagreb; Swiss Architecture Museum, Basel; Venice Architecture Biennale; and others. With Saša Ban, Mrduljaš filmed two seasons of the award-winning documentary series Concrete Slumbers, about post–WWII architecture in the region of the former Yugoslavia. He is an independent expert for the EU Mies van der Rohe Prize for Architecture, and a lecturer at the Faculty of Architecture at the University of Zagreb.
Vladimir Kulić is an architectural historian, curator, and critic specializing in modern and contemporary architecture, and an incoming associate professor at Iowa State University. He is the editor of the forthcoming volume Second World Postmodernisms: Architecture and Society Under Late Socialism (2018), which focuses on numerous case-studies, ranging from Eastern Europe to Cuba and China, to bring attention to the little-known fact that, in the 1970s and 1980s, forms of postmodernism flourished across the former socialist world. He has received numerous fellowships, grants, and awards, including those from the Institute for Advanced Study in Princeton, the American Academy in Berlin, the Graham Foundation, the National Gallery of Art in Washington, DC, the American Council of Learned Societies, and the Fondazione Bruno Zevi in Rome.
Martino Stierli is The Philip Johnson Chief Curator of Architecture and Design at The Museum of Modern Art, where he oversees the department's wide-ranging program of exhibitions, installations, and acquisitions. He has taught at various universities, including Princeton University and ETH Zurich, where he earned his PhD. Stierli has organized and curated a variety of exhibitions, including Las Vegas Studio: Images from the Archives of Robert Venturi and Denise Scott Brown (with Hilar Stadler, 2008–17). His scholarship has been recognized with a number of prizes, among them the ETH Medal of Distinction for Outstanding Research (2008); the Theodor Fischer Prize by the Zentralinstitut für Kunstgeschichte, Munich (2008); the 2011 Swiss Art Award for Architectural Criticism; and Publication and Presentation Grants from the Graham Foundation (2011, 2016).
Beti Žerovc is an associate professor at the Faculty of Arts at the University of Ljubljana. Her areas of research include visual art and the art system since the mid-19th century, with a focus on their role in society. In 2018 Žerovc co-edited the publication The Lives of Monuments: World War II and Public Monuments in Slovenia. Her last book, When Attitudes Become the Norm: The Contemporary Curator and Institutional Art, was published in 2015 and reprinted in 2018.
Enter through the Cullman Education and Research Building, 4 West 54th Street.
American Sign Language interpretation and CART captioning is available for any public program, with advance notice. Please email [email protected] to request sign language interpretation with two weeks notice or to request CART with three weeks notice.
This event will be live-streamed.
Education at MoMA is made possible by a partnership with Volkswagen of America.

Major support for Adult and Academic Programs is provided by the Estate of Susan Sabel.

Generous funding is provided by endowments established by Agnes Gund and Daniel Shapiro, The Junior Associates of The Museum of Modern Art, Walter and Jeanne Thayer, and by the gifts of Alan Kanzer. Additional support is provided by the Annual Education Fund.