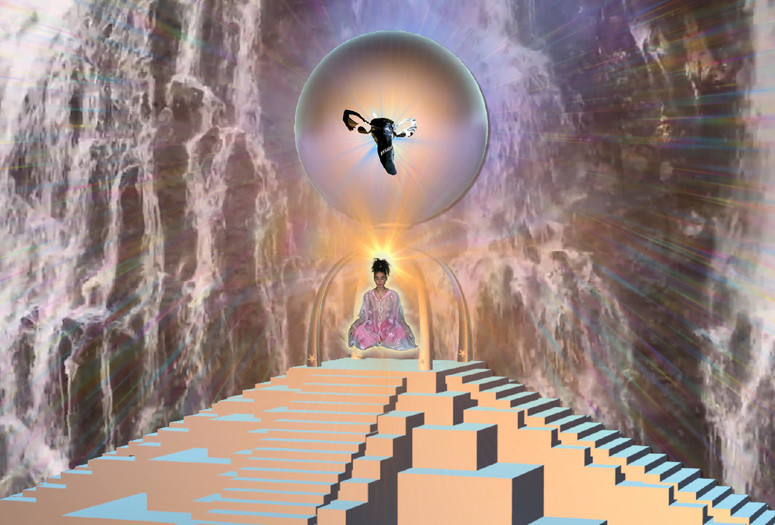 Join us in a collective healing exercise for New York City. Start your day with an early-morning Kemetic Yoga practice led by artist and energy worker Tabita Rezaire.
In our disconnected times, the spiritual technology of Kemetic Yoga (ancient Egyptian Yoga) provides an opportunity to reconnect with our divine creative essence through breath, geometrical alignments, cosmological storytelling, and the healing power of sound. Accompanied by a video display featuring Rezaire's virtual "hyper-landscapes," the morning offering will embody ancestral tales and stimulate body memory as we explore the power of architecture as a tool for imagining and creating community.
This gentle practice is open to all. Be sure to wear comfortable clothing. Yoga mats will be provided by lululemon, though you're welcome to bring your own.
After the session, visit the exhibition Bodys Isek Kingelez: City Dreams and discover Kingelez's visionary architectural models for a more harmonious future society. The exhibition includes an interactive virtual-reality look inside one of his city-scale works.
Tickets ($20) include the workshop (7:00–8:30 a.m.), exclusive access to the exhibition (8:30–9:30 a.m.), and light refreshments provided by Bluestone Lane.
Special thanks to lululemon and Bluestone Lane.
Please enter through The Ronald S. and Jo Carole Lauder Building entrance at 11 West 53rd Street.
PopRally is a series of events at The Museum of Modern Art and MoMA PS1 that serve as a gateway for young and diverse audiences to engage with MoMA. Led by a cross-departmental committee of Museum staff, PopRally produces dynamic programs including artist collaborations, performances, film screenings, and digital content that encourage new and experimental ways of encountering modern and contemporary art.