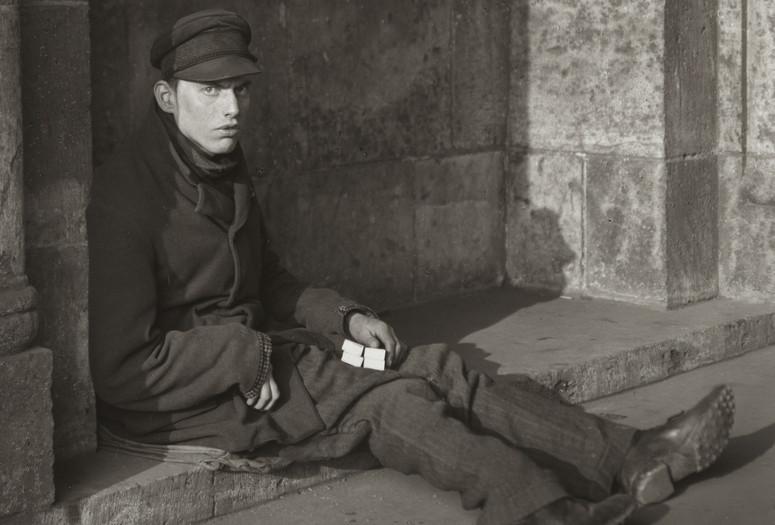 2018 Presenters and Portfolios
Virginia Heckert: I/2 The Farmer's Child and the Mother
Virginia Heckert is Curator in the Department of Photographs at the J. Paul Getty Museum, with expertise in German photography between the two World Wars, late 20th-century American photography, and contemporary photography. Her recent projects include the exhibitions and catalogues Light, Paper, Process: Reinventing Photography (2015); Ed Ruscha and Some Los Angeles Apartments (2013). Previously she has organized exhibitions on the work of Candida Höfer, Irving Penn, Albert Renger-Patzsch, and August Sander.
Trevor Paglen: I/3 The Farmer's Family
Trevor Paglen is a conceptual artist and geographer based in Berlin. In 2017 he was named a MacArthur Fellow. He received a Ph.D. from the University of California at Berkeley and an MFA from the School of the Art Institute of Chicago. He is currently the subject of a mid-career survey at the Smithsonian American Art Museum. Paglen is the author of The Last Pictures (2012); Blank Spots on the Map: The Dark Geography of the Pentagon's Secret World (2009); and "Invisible Images: Your Pictures Are Looking at You" (2016). With the Nevada Museum of Art, he plans to launch the artwork *Orbital Reflector*—a nonfunctional satellite—into low earth orbit this fall.
Gabriele Conrath-Scholl: I/4 The Farmer—His Life and Work
Gabriele Conrath-Scholl is Director of Die Photographische Sammlung / SK Stiftung Kultur, Cologne, which includes the August Sander Archive. Prior to becoming director in 2007, she served as research associate there from 1996. Conrath-Scholl studied visual arts under Bernd Becher and art history at the Kunstakademie Düsseldorf. She is the author of numerous publications and curator of exhibitions devoted to August Sander, as well as studies of Bernd and Hilla Becher, Karl Blossfeldt, Hans Eijkelboom, Francesco Neri, Judith Joy Ross, Rosalind Solomon, and Thomas Struth.
Lee Ann Daffner: I/5 Farming Types
Lee Ann Daffner is the Andrew W. Mellon Foundation Conservator of Photographs at MoMA since 1998 and is responsible for the preservation, conservation and materials research for photographs in all the Museum collections. Daffner received a Master of Arts and Certificate of Advanced Study in the Conservation of Historic and Artistic Artifacts at Buffalo State, State University New York. Her publications include studies of the materials and methods of Bill Brandt, Aleksandr Rodchenko, Josef Albers and Thomas Eakins. She was on the leadership team for The Thomas Walther Collection Project, and co-edited the resultant publication and website, Object: Photo (2014).
Peter Galison: II/12 The Technician and Inventor
Peter Galison is the Joseph Pellegrino University Professor at Harvard University. From Harvard, he received his Ph.D. in theoretical high-energy physics and in the history of science. He was awarded a MacArthur Fellowship; the Pfizer Award for Image and Logic (1997); the Max Planck and Humboldt Stiftung Prize; and the Pais Prize. Other books include How Experiments End (1987), Einstein's Clocks, Poincaré's Maps (2003), and Objectivity (with L. Daston, 2007). With Robb Moss, he directed the films Secrecy (2008) and Containment (2015). Galison partnered with South African artist William Kentridge on a multi-screen installation, "The Refusal of Time" (2012). He is a co-founder of the Black Hole Initiative, an interdisciplinary center, which is the locus for his current philosophical and filming work.
Jennifer Blessing and Rineke Dijkstra: IV/18 The Student
Jennifer Blessing is Senior Curator, Photography, at the Solomon R. Guggenheim Museum. She is responsible for developing the museum's photography collection as well as organizing photography-based exhibitions. Most recently, Blessing curated Photo-Poetics: An Anthology, a group exhibition of ten artists that explored new developments in contemporary photography. Prior to Photo-Poetics, she organized the New York presentation of Carrie Mae Weems: Three Decades of Photography and Video (2014). In 2012, she collaborated with the San Francisco Museum of Modern Art to present Rineke Dijkstra: A Retrospective.
Rineke Dijkstra has produced a rich and complex body of photographic and video work, offering a contemporary take on the genre of portraiture. Recent awards include the Hasselblad Foundation International Award in Photography (2017) and SPECTRUM, International Prize for Photography of Stiftung Niedersachsen (2017). Dijkstra was the subject of mid-career retrospectives at Museum De Pont, Tilburg, the Netherlands (2018) and Louisiana Museum of Modern Art, Denmark (2017); and previously at the San Francisco Museum of Modern Art and Solomon R. Guggenheim Museum in New York (2012).
Sander Gilman: IV/23 The Soldier
Sander L. Gilman is a distinguished professor of the Liberal Arts and Sciences as well as Professor of Psychiatry at Emory University. A cultural and literary historian, he is the author or editor of over ninety books including the recent Stand Up Straight! A History of Posture (2018). He is the author of the basic study of the visual stereotyping of the mentally ill, Seeing the Insane (1982, reprinted 1996 and 2014), as well as the standard study of Jewish Self-Hatred (1986). He was elected an honorary professor of the Free University in Berlin (2000), an honorary member of the American Psychoanalytic Association (2007), and made a Fellow of the American Academy of Arts and Sciences (2016).
Tom Levin: IV/27 The Businessman
Thomas Levin is Associate Professor of German at Princeton University. His numerous articles and edited volumes on a range of cultural, aesthetic, and philosophical topics associated with modernity have addressed subjects including Kracauer, Adorno, Benjamin, Panofsky, Debord, and Farocki. Levin has curated exhibitions at ZKM Karlsruhe, Centre Pompidou, Witte de With Center for Contemporary Art, Slought and the Princeton University Art Museum. He is co-founder and co-director of the Princeton-Weimar Media Studies Summer School and currently co-director of Princeton's Program in Media & Modernity. In conjunction with his large-scale project on the media archaeology of voice mail he is building the first global archive of gramophonic letters.
Peter Galassi: IV/28 The Politician
Peter Galassi joined the Department of Photography at MoMA as an intern in 1974, returned to the staff in 1981, and was chief curator from 1991 to 2011. At MoMA he organized countless collection installations and more than forty exhibitions, many accompanied by major catalogues. He is also the author of Corot in Italy (1991) and books on the work of Philip-Lorca diCorcia (1995) and Richard Benson (2011). His recent projects include Robert Frank in America (Stanford, 2014); In the Studio: Photographs (Gagosian NY, 2015); and Brassaï (Barcelona and Madrid: Fundación MAPFRE, 2018), which will open at SFMOMA in November.
Caroline Evans: VI/40 City Youth
Caroline Evans is Professor of Fashion History and Theory at Central Saint Martins, University of the Arts London. She is the author of The Mechanical Smile: Modernism and the First Fashion Shows in France and America, 1900-1929 (2013) and Fashion at the Edge: Spectacle, Modernity, and Deathliness (2003), among many other publications that have been instrumental to developing the field of fashion history and theory. Current research projects attend to the idea of "fashion gesture;" a media archaeological approach to fashion history via film; and an exploration of the relations between technologies of the body and of pattern-cutting.
Moderators:
Quentin Bajac is The Joel and Anne Ehrenkranz Chief Curator of the Department of Photography at MoMA. His recent exhibitions include Stephen Shore (2017) and Etre Moderne/Being Modern: MoMA in Paris (Fondation Louis Vuitton, 2017), each accompanied by a major publication. Prior to MoMA, Bajac was Chief Curator of Photography at the Centre Pompidou in Paris where he curated or co-curated a large number of exhibitions, including Bernd and Hilla Becher; William Klein; La subversion des images: Surrealism, Photography, Film; and Brancusi: Images sans fin. Bajac has published extensively on aspects of historical, modern and contemporary photography including A History of Photography in 3 Volumes (Gallimard, 2003-2010).
Lynette Roth oversees the Division of Modern and Contemporary Art at the Harvard Art Museums generally, as well as the Busch-Reisinger Museum and its collection specifically. Her research focuses on modern and contemporary art from German-speaking countries, with special emphasis on the medium of painting, the relationship between art and politics, and the history and reception of German art in the United States. She has published widely on the art of the Weimar period (Cologne Progressives, Max Beckmann). Recent exhibitions have centered on contemporary art (Rebecca Horn, Wolfgang Tillmans), while the recently closed Inventur: Art in Germany, 1943–55, reflects on the immediate postwar period.
Co-Directors:
Noam M. Elcott (Columbia University) and
Sarah H. Meister (The Museum of Modern Art)
The August Sander Project is made possible through the generous support of David Dechman, Richard Rieger, and Artur Walther.