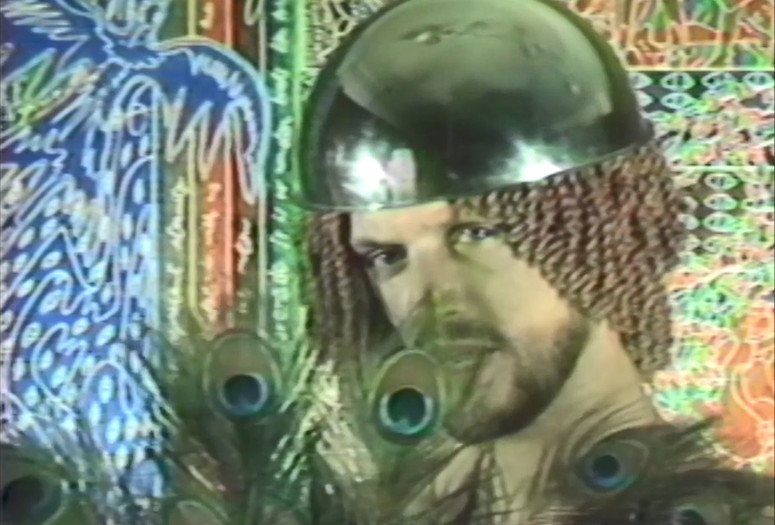 Scandalous, gender-bending street performances and "gutter art" costumes crafted from glittery detritus made Stephen Varble a notorious fixture of Soho art circles during the 1970s. Trained as a filmmaker and influenced by Jack Smith and Fluxus artist Geoffrey Hendricks, Varble gravitated toward antiestablishment public provocations, performances for camera, and his own audacious brand of makeshift glamor.
The expansive, ever-evolving video saga Journey to the Sun (1978–83) occupied Varble's last years of artistic production before his untimely death from AIDS-related complications. Alongside collaborators he assembled under the cheeky moniker the Happy Arts School of Manuscript Illumination, Varble improvised a series of satirical, erotic, and often delirious scenes amid opulent sets in his Riverside Drive apartment. Visual allusions to medieval illuminated manuscripts intersect with the technological media of Varble's own moment, including the early digital synthesizer alphaSyntauri, which generated some of the work's soundtrack. Open-ended and incomplete, Varble's "infinitely spacious epic" offers an "around-the-clock antidote" to the rampant commodification of art and spectacle during the artist's lifetime.
This evening features excerpts from Journey to the Sun with commentary by David Getsy, art historian and curator of the exhibition Rubbish and Dreams: The Genderqueer Performance Art of Stephen Varble, now on view at the Leslie-Lohman Museum of Gay and Lesbian Art. A conversation between Getsy and Stuart Comer, chief curator of MoMA's Department of Media and Performance Art, follows the screening.