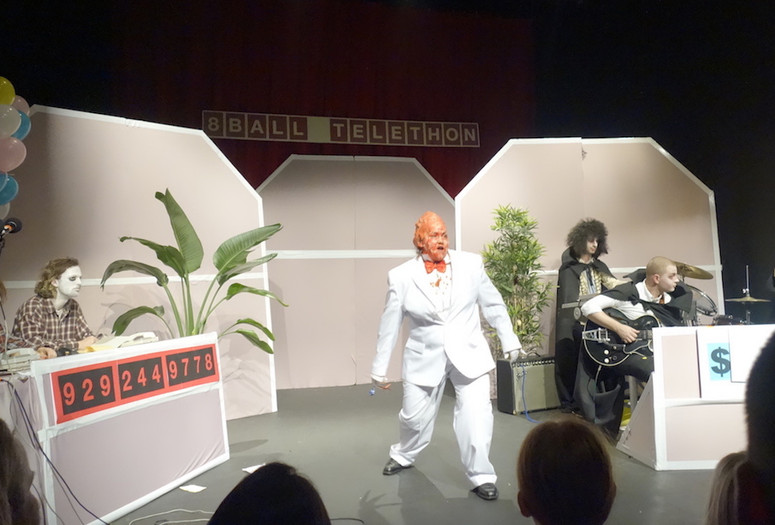 The Sunday before Thanksgiving, 8-Ball Community Inc. presents a day-long program that interrogates the history of Thanksgiving in active resistance to colonialism, white supremacy, and the meat industry.
Taking place throughout the museum, the day features performances in the VW Dome by Nick Hakim and Poetic Thrust, a comedy variety show organized by Bunt Cake & the Pantyhoes, and a drum circle organized with The Silvercloud Singers and led by Kevin Tarrant. Live music continues in the galleries with performances by Janet in Artbook, screenings of 8-Ball TV's public access shows, and a performance by Sugar Vendil of Nouveau Classical Project in the basement alongside a participatory chess tournament organized by Crown Royal Chess Club. In the cinema, 8-Ball TV presents a screening of the new documentary Awake, A Dream From Standing Rock followed by a Q&A with the filmmakers moderated by Elle Clay. Throughout the day, zines from the 8-Ball Archive on the theme of Thanksgiving will be on view alongside Rahim Fortune's Shinnecock Nation portrait series.
8-Ball Community Inc. is an independent not-for-profit organization that supports artists by providing virtual and physical meeting sites for people of all ages, genders, and backgrounds. They generate collaboration and educational exchange through public access television and radio stations, an imprint, a self-publishing fair, a public library, an internship program, a residency, and a series of workshops in art-related trades.
Tickets:
General Admission: $15
MoMA / MoMA PS1+ Members: $13
MoMA PS1's acclaimed VW Sunday Sessions performance series welcomes visitors to experience and participate in live art. Since its founding in 1976, MoMA PS1 has offered audiences one of the most extensive programs of live performance in the world. VW Sunday Sessions highlights artists responding to contemporary social and political issues through a wide variety of creative and critical lenses. Encompassing performance, music, dance, conversation, and film, the series develops and presents projects by established and emerging artists, scholars, activists, and other cultural instigators. With a focus on artists that blur and break traditional genre boundaries, VW Sunday Sessions embraces the communities in New York City that create and sustain artistic practice.
Since 2012, VW Sunday Sessions has presented a commissioning program resulting in new work by Trajal Harrell, Mårten Spångberg, Anne Imhof, Tobias Madison and Matthew Lutz Kinoy, Hannah Black, and Colin Self. Additionally, the VW Dome Artist Residency offers a platform for creative development and experimentation for artists at all stages of the creative process.
VW Sunday Sessions is organized by Taja Cheek, Assistant Curator, and Alex Sloane, Assistant Curator, with Alexandra Rosenberg, Associate Producer, Chris Masullo, Production Coordinator, Enrique Alba, Production Assistant, and Cody Simons, Production Assistant.

VW Sunday Sessions and the VW Dome at MoMA PS1 are made possible by a partnership with Volkswagen of America, who have supported the program since its inception.

Major support is provided by the Anna-Maria and Stephen Kellen Foundation.

Dance programming as part of VW Sunday Sessions at MoMA PS1 is supported in part by the Mertz Gilmore Foundation.