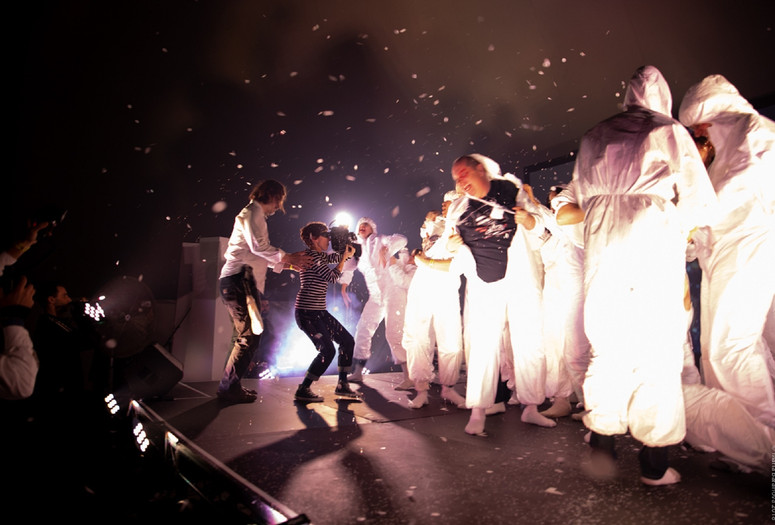 French cinema artist Marie Losier and German electronic musician Felix Kubin come together for a raucous afternoon of music, film, and conversation, centered around a collaborative live film shoot and concert.
Losier has been creating imaginative celluloid portraits for the last two decades, and is currently working on a project with Kubin. Marking the culmination of her film retrospective at The Museum of Modern Art, Losier offers her audience an unvarnished glimpse into the process of 16mm film making. The program opens with a screening of her selected short films, followed by a conversation between Losier and curators Matthew Lyons and Sophie Cavoulacos. Losier will then transform the VW Dome into an active film set, directing the music video for a song Kubin has composed specifically for this occasion. The audience is invited to participate along with a multitude of guest dancers in HazMat suits. Once the shoot is complete, Losier transitions from film maker to music lover as she joins the crowd and Kubin shifts into performing a full concert.
Tickets:
General Admission: $15
MoMA / MoMA PS1+ Members: $13
MoMA PS1's acclaimed VW Sunday Sessions performance series welcomes visitors to experience and participate in live art. Since its founding in 1976, MoMA PS1 has offered audiences one of the most extensive programs of live performance in the world. VW Sunday Sessions highlights artists responding to contemporary social and political issues through a wide variety of creative and critical lenses. Encompassing performance, music, dance, conversation, and film, the series develops and presents projects by established and emerging artists, scholars, activists, and other cultural instigators. With a focus on artists that blur and break traditional genre boundaries, VW Sunday Sessions embraces the communities in New York City that create and sustain artistic practice.
Since 2012, VW Sunday Sessions has presented a commissioning program resulting in new work by Trajal Harrell, Mårten Spångberg, Anne Imhof, Tobias Madison and Matthew Lutz Kinoy, Hannah Black, and Colin Self. Additionally, the VW Dome Artist Residency offers a platform for creative development and experimentation for artists at all stages of the creative process.
VW Sunday Sessions is organized by Taja Cheek, Assistant Curator, and Alex Sloane, Assistant Curator, with Alexandra Rosenberg, Associate Producer, Chris Masullo, Production Coordinator, Enrique Alba, Production Assistant, and Cody Simons, Production Assistant.

VW Sunday Sessions and the VW Dome at MoMA PS1 are made possible by a partnership with Volkswagen of America, who have supported the program since its inception.

Major support is provided by the Anna-Maria and Stephen Kellen Foundation.

Dance programming as part of VW Sunday Sessions at MoMA PS1 is supported in part by the Mertz Gilmore Foundation.