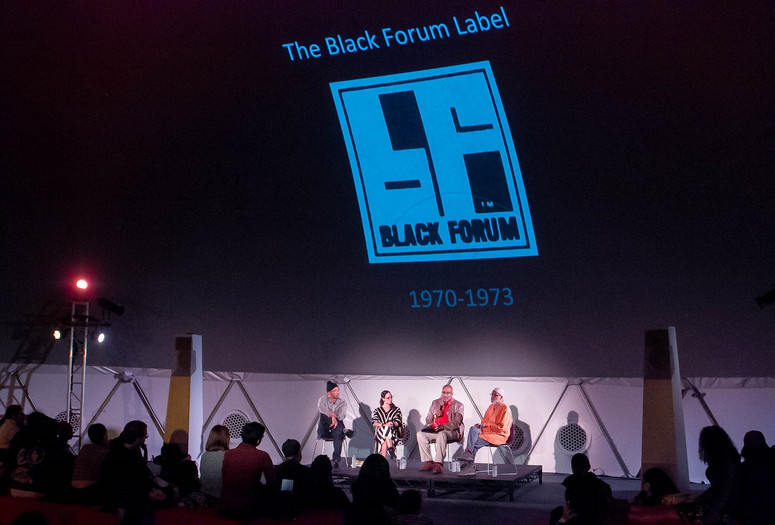 Founded in 1970 by Berry Gordy of Motown Records, Black Forum served as a platform for political spoken word and music during a time of civil unrest. With contributions from some of the era's most visible and influential thought leaders, including Amiri Baraka, Elaine Brown, Stokely Carmichael, Langston Hughes, and Dr. Martin Luther King Jr., eight albums and one single were released between 1970 and 1973 under the Black Forum label imprint.
Highlighting the enduring relevance of the label's progressive themes over 40 years later, the program will feature an installation and workshop with OlaRonke Akinmowo's Free Black Women's Library; DJ sets by Rich Medina including music of and inspired by the era; and a discussion between professor Michael Dinwiddie, Sadie Barnette, and James Mtume, percussionist and composer who performed on Amiri Baraka's 1972 Black Forum release, It's Nation Time — African Visionary Music.
The League of Women Voters will also be on site to provide information on ballot initiatives, polling locations, and other voter information in advance of the November 6 midterm elections.
Tickets:
General Admission: $15
MoMA / MoMA PS1+ Members: $13
MoMA PS1's acclaimed VW Sunday Sessions performance series welcomes visitors to experience and participate in live art. Since its founding in 1976, MoMA PS1 has offered audiences one of the most extensive programs of live performance in the world. VW Sunday Sessions highlights artists responding to contemporary social and political issues through a wide variety of creative and critical lenses. Encompassing performance, music, dance, conversation, and film, the series develops and presents projects by established and emerging artists, scholars, activists, and other cultural instigators. With a focus on artists that blur and break traditional genre boundaries, VW Sunday Sessions embraces the communities in New York City that create and sustain artistic practice.
Since 2012, VW Sunday Sessions has presented a commissioning program resulting in new work by Trajal Harrell, Mårten Spångberg, Anne Imhof, Tobias Madison and Matthew Lutz Kinoy, Hannah Black, and Colin Self. Additionally, the VW Dome Artist Residency offers a platform for creative development and experimentation for artists at all stages of the creative process.
VW Sunday Sessions is organized by Taja Cheek, Assistant Curator, and Alex Sloane, Assistant Curator, with Alexandra Rosenberg, Associate Producer, Chris Masullo, Production Coordinator, and Kenzo Perron, Assistant Production Coordinator, Enrique Alba, Production Assistant, and Cody Simons, Production Assistant.

VW Sunday Sessions and the VW Dome at MoMA PS1 are made possible by a partnership with Volkswagen of America, who have supported the program since its inception.

Major support is provided by the Anna-Maria and Stephen Kellen Foundation.

Dance programming as part of VW Sunday Sessions at MoMA PS1 is supported in part by the Mertz Gilmore Foundation.