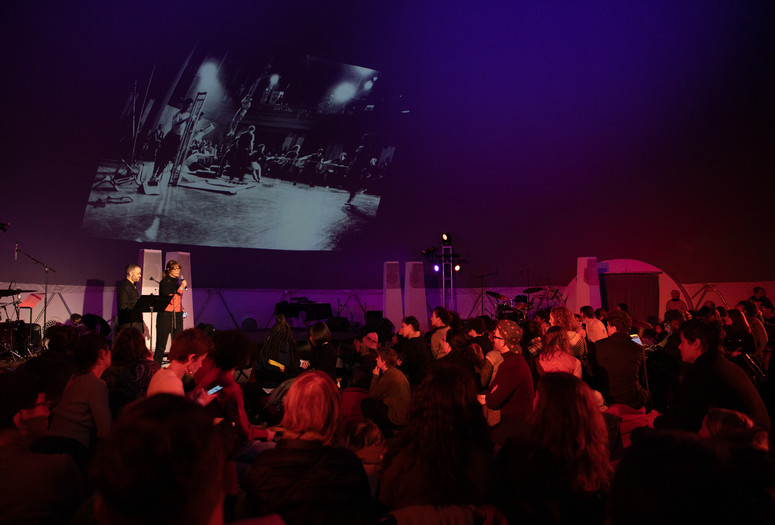 This symposium will reassess the Judson group's continuing influence on contemporary practice. The program features presentations, discussions, and sound improvisations by artists, scholars, and critics, including Fred Moten; K.J. Holmes and Ramsey Ameen; Malik Gaines; André Lepecki; Marina Rosenfeld with Eli Keszler and Greg Fox; Clare Croft; Barbara Clausen; Gus Solomons Jr.; and Philip Corner with Daniel Goode, David Demnitz, Leyna Marika Papach, Phœbe Neville, and Iris Brooks.
This event is co-organized with Malik Gaines, André Lepecki, and Fred Moten of New York University's Tisch School of the Arts Department of Performance Studies, and is presented in conjunction with the exhibition Judson Dance Theater: The Work is Never Done at The Museum of Modern Art.  
MoMA PS1's acclaimed VW Sunday Sessions performance series welcomes visitors to experience and participate in live art. Since its founding in 1976, MoMA PS1 has offered audiences one of the most extensive programs of live performance in the world. VW Sunday Sessions highlights artists responding to contemporary social and political issues through a wide variety of creative and critical lenses. Encompassing performance, music, dance, conversation, and film, the series develops and presents projects by established and emerging artists, scholars, activists, and other cultural instigators. With a focus on artists that blur and break traditional genre boundaries, VW Sunday Sessions embraces the communities in New York City that create and sustain artistic practice.
Since 2012, VW Sunday Sessions has presented a commissioning program resulting in new work by Trajal Harrell, Mårten Spångberg, Anne Imhof, Tobias Madison and Matthew Lutz Kinoy, Hannah Black, and Colin Self. Additionally, the VW Dome Artist Residency offers a platform for creative development and experimentation for artists at all stages of the creative process.
VW Sunday Sessions is organized by Taja Cheek, Assistant Curator, and Alex Sloane, Assistant Curator, with Alexandra Rosenberg, Associate Producer, Chris Masullo, Production Coordinator, Enrique Alba, Production Assistant, and Cody Simons, Production Assistant.

VW Sunday Sessions and the VW Dome at MoMA PS1 are made possible by a partnership with Volkswagen of America, who have supported the program since its inception.

Major support is provided by the Anna-Maria and Stephen Kellen Foundation. Dance programming as part of VW Sunday Sessions at MoMA PS1 is supported in part by the Mertz Gilmore Foundation.

Education at MoMA is made possible by a partnership with Volkswagen of America.

Major support for Adult and Academic Programs is provided by the Estate of Susan Sabel. Generous funding is provided by endowments established by Agnes Gund and Daniel Shapiro, The Junior Associates of The Museum of Modern Art, Walter and Jeanne Thayer, and by the gifts of Alan Kanzer. Additional support is provided by the Annual Education Fund.

Generous support for Judson Dance Theater: A Collective Speculation is provided by MoMA's Wallis Annenberg Fund for Innovation in Contemporary Art through the Annenberg Foundation. Special thanks to New York University's Tisch School of the Arts Department of Performance Studies.