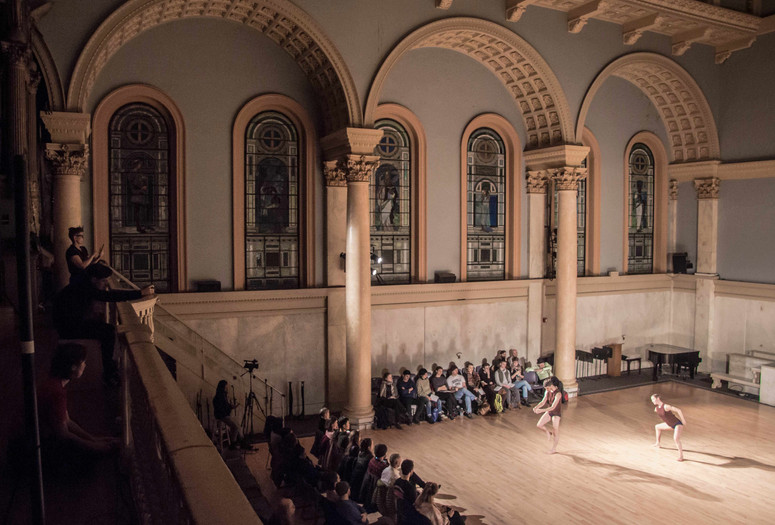 Organized in collaboration with Judson Memorial Church, the socially engaged Protestant congregation in Greenwich Village that originally housed Judson Dance Theater, this full day of programs includes a screening of Shirley Clarke's The Connection (1961), a discussion about the mutual influence of art and religion, and performances co-organized with Movement Research and STUFFED. Drawing connections between the church's past and present, the program aims to highlight urgent and persistent questions about creative expression and community organizing.
This event takes place at Judson Memorial Church, 55 Washington Square South, Manhattan. Judson Memorial Church has an accessible entrance by way of 243 Thompson Street. Use the lift to get to the Meeting Room on Level 3 or our accessible bathrooms on Level B (basement). Return to Level 1 for street access back to the corner of West 4th and Thompson streets.
Free. No advanced ticketing required.
Program:
11:00 a.m.
Welcome
Rev. Dr. Donna Schaper, Senior Minister, Judson Memorial Church
11:10 a.m–1:00 p.m.
Film
The Connection. 1961. USA. Directed by Shirley Clarke. 110 min.
Restored by UCLA Film & Television Archives. Restorationist: Ross Lipman
Digital restoration by Modern Videofilm and Milestone Films
Introduced by Thomas J. Lax, Associate Curator, Department of Media and Performance, The Museum of Modern Art
1:00–1:45 p.m.
Bailout meal
1:45–2:15 p.m.
Performances
Dark and Pretty Flat
Choreography by Esmé Boyce
Performed by Esmé Boyce, Cori Kresge, Kit Heron McDaniel, Erick Montes
Music composed and performed by Cody Boyce
Video by Cody Boyce
Costume Design by Sue Julien
SOLO
Choreography, performance, and artwork by Laura Peterson
2:15–2:30 p.m.
Break
2:30–3:15 p.m.
Panel discussion: The Mutual Influence of Art and Religion
Kay Larson, art critic and author
Dr. John J. Thatamanil, Associate Professor of Theology and World Religions, Union Theological Seminary in the City of New York
Rev. Micah Bucey, Minister, Judson Memorial Church
Moderated by André Daughtry, visual artist and Senior Community Minister of the Arts, Judson Memorial Church
3:15–3:30 p.m.
Break
3:30–4:00 p.m.
Performances
natuered by Melanie Maar
Sound by Kenta Nagai
iteration 10: goingdeeP (an ongoing study of underwaterness) by Nia Love
4:00–4:25 p.m.
Break
4:25–5:00 p.m.
Slide lecture
Unknown Judson (3), as Photographed by Peter Moore
Barbara Moore, Director, Peter Moore Archive
Introduced by Ana Janevski, Curator, Department of Media and Performance, The Museum of Modern Art
5:00–5:30 p.m.
Performances
these hauntings happen everywhere... by mayfield brooks
Sticky Sister and 8hrs of Whale (in progress) by Lily Gold in collaboration with Kayvon Pourazar, Mary Read, and Michael Ingle
Music by James Jolliff and Lily Gold
5:30 p.m.
Closing remarks
Rev. Micah Bucey, Minister, Judson Memorial Church
Presenters
Esmé Boyce is a Brooklyn-based choreographer, director, and dancer. She received a BFA in dance from The Juilliard School and is currently working toward an MFA in dance from University of Wisconsin–Milwaukee. She focuses primarily on creating interdisciplinary pieces with a core team of artists. Boyce has presented work at 92nd Street Y, Dixon Place, Lincoln Center, The Dogwood Performing Arts Center, Brooklyn Academy of Music, Fishman Space, Judson Church, Baryshnikov Arts Center, and Center for Performance Research. As a dancer, she has had the pleasure of working with Janis Brenner, Catherine Tharin, Yara Travieso, Jin Ju Song-Begin, Dana Katz, and Megan Williams. She participated in her first evening of STUFFED: Dinner + Dance at Judson Church in 2012.
mayfield brooks improvises while black, and is currently based in Brooklyn, NY. mayfield is a movement-based performance artist, urban farmer, writer, and wanderer. They studied contemporary dance at the School for New Dance (SNDO) in Amsterdam and Moving on Centre in Aakland, CA, and holds an MFA in interdisciplinary performance from University of California, Davis, and an MA in performance studies from Northwestern University. mayfield is currently a 2017 artist in residence at Movement Research NYC and a Works on Water artist-in-residence at Governor's Island, and was recently featured in Gathering Place: Black Queer Land(ing) at Gibney.
Barbara Bryan is the executive director of Movement Research and an independent performing arts producer, manager, and curator currently working with Sarah Michelson Inc. and Lower Manhattan Cultural Council. From 2000 to 2012 she produced the work of John Jasperse/Thin Man Dance, Inc., Wally Cardona, and Jennifer Monson/iLand, Inc., throughout the US. and abroad. She was guest curator of Jacob's Pillow Dance Festival's Inside/Out Series (2002–12) and associate director of Danspace Project (1997–99). Bryan has served as a faculty member, mentor, guest speaker, and panelist at various events, including Dance/USA, PICA's TBA Festival, On the Boards in Seattle, the National Performance Network, the National Dance Project, and Pentacle.
Rev. Micah Bucey currently serves Judson Memorial Church, where he spearheads Judson Arts Wednesdays (JAW), a weekly art and food gathering that provides free meals for guests in need and developmental space for artists in need. He is a member of InterFilm, for whom he has served on the Ecumenical Jury at the Berlin International Film Festival, reviews films for Spirituality & Practice, is deeply committed to racial justice, immigration reform, migrant worker justice, animal welfare, and LGBTQIA communities, and, in his free time, writes and performs as one half of the semi-defunct-musical-theater-performance-art-power-pop-duo The Gay Agenda.
André Daughtry is a Brooklyn-based interdisciplinary photography and media artist, filmmaker, social activist, and theologian of materials. His work deals with questions around the spiritual and the mystical in secular pluralistic democracies. Daughtry received his MFA in photography and media from CalArts (California Institute of the Arts) and an MA in theology and the arts from Union Theological Seminary in the City of New York. He is a senior community minister of the arts at Judson Memorial Church and is currently a 2018–19 artist-in-residence in the Lower Manhattan Cultural Council's (LMCC) Workspace residency program.
Kit Heron McDaniel received her BFA in dance from Florida State University. She is currently a member of the NYC-based contemporary dance companies HereNowDance and Esme Boyce Dance. She has worked extensively in both concert and commercial dance. A former member of KEIGWIN+COMPANY, she has had the privilege to work with artists such as T-Pain, Janelle Monae, Pharrell Williams, Dan Wagoner, Susan Marshall, Mark Dendy, Jackie Buglisi, Lucy Struever, The Ramblers Dance Company, Geri Houlihan, Catherine Miller, Monica Bill Barnes, Alan Danielson, and others. She has taught at universities around the country and has presented her own choreography throughout New York and Florida. When she's not dancing, she teaches Pilates and models for various fit and fashion publications.
Lily Gold has been making dance in New York since 2012. She was a 2015–16 Movement Research artist-in-residence and her first evening-length work, Good Mud, premiered at Danspace Project last year. Her work has also been presented by AUNTS, Dixon Place, Chez Bushwick, Movement Research (Judson Church and Fall and Spring Festivals), and First Street Gallery. In addition to choreographic work, Gold makes paintings and experimental short films. As a dancer she's performed with Vicky Shick, Andrea Geyer, Strauss Bourque-LaFrance, Larissa Velez-Jackson, Tere O'Connor, and Walter Dundervill, among others.
Ana Janevski was appointed curator in the Department of Media and Performance Art at The Museum of Modern Art in 2017. The first to hold this position, Janevski is in charge of developing the Museum's performance program. She joined MoMA's curatorial staff in 2011, after serving as the curator at the Museum of Modern Art in Warsaw, Poland. At MoMA, Janevski has organized a variety of exhibitions and performances, including Anne Teresa De Keersmaeker: Work/Travail/Arbeid (2017), Jérôme Bel: MoMA Dance Company (2016), Scenes for a New Heritage: Contemporary Art from the Collection (2015, with Quentin Bajac, Eva Respini, and Sarah Suzuki), Yvonne Rainer: The Concept of Dust, or How do you look when there's nothing left to move? (2015), Projects 101: Rabih Mroué (2015), Musee de la danse: Three Collective Gestures (2013), Projects 100: Akram Zaatari (2013, with Eva Respini), and Martha Rosler: Meta-Monumental Garage Sale (2012, with Sabine Breitwieser). In 2015, she was instrumental in the Museum's acquisition of Simone Forti's Dance Constructions. Janevski's publications include Art and Theory of Post-1989 Central and Eastern Europe: A Critical Anthology (2018, with Roxana Marcocci), Boris Charmatz: Modern Dance Series (2017), and Is the Living Body the Last Thing Left Alive?: The New Performance Turn, Its Histories and Its Institutions (2014, with Cosmin Costinas). Janevski was also appointed curator of Ralph Lemon's and Trajal Harrell's Annenberg Research Residencies.
Cori Kresge is a New York City–based dancer, choreographer, writer, and teacher. She graduated from SUNY Purchase with a BFA in dance and the Dean's Award for "Breaking the Mould." She has been a member of the Merce Cunningham Repertory Understudy Group, functioning as a living archive for Cunningham works from the 1960s, '70s, and '80s. She has also been a member of José Navas/Compagnie Flak and Stephen Petronio Company. Kresge currently collaborates and performs with various artists, including Rashaun Mitchell+Silas Riener, the School for Poetic Computation, Rebecca Lazier, Xavier Cha, Esmé Boyce, Sarah Skaggs, Wendy Osserman, and Liz Magic Laser, and with filmmakers Alla Kovgan, Zuzka Kurtz, and Charles Atlas. She has taught technique and improvisation at NYU Tisch School of the Arts, Bard College, Dickinson College, Barnard College, Princeton University, the Dalton School, and other institutions. Kresge also teaches the Little Creators preschool program at Church Street School for Music and Art in Tribeca.
Kay Larson is the author of Where the Heart Beats: John Cage, Zen Buddhism, and the Inner Life of Artists (Penguin Press, 2012), a portrait of John Cage's spiritual conversion and its effects on artists. She was formerly an art critic and contributing editor at New York magazine (1980–94) and a frequent contributor to The New York Times (1994–2007). She served on the Content Committee of Awake: Art, Buddhism, and the Dimensions of Consciousness, a colloquium of art professionals in Marin County, California (1999–2004). She has practiced Buddhism in the Zen and Tibetan traditions for the last 25 years.
Thomas J. Lax is an associate curator of Media and Performance Art at The Museum of Modern Art, a position he's held since 2014. Previously, he worked at The Studio Museum in Harlem, where he organized and co-organized a variety of exhibitions. Since joining MoMA, Lax has curated projects including Unfinished Conversations: New Work from the Collection (2017, with Klaus Biesenbach, Lucy Gallun, Christian Rattemeyer, and Yasmil Raymond), Modern Dance: Ralph Lemon (2016), Projects: Neïl Beloufa (2016), Maria Hassabi: PLASTIC (2016), Greater New York (2015, with Peter Eleey and Douglas Crimp), and Steffani Jemison: Promise Machine (2015, with Stuart Comer). He has also ushered in numerous important acquisitions that reflect his support for contemporary artists. Outside of the Museum, Lax writes regularly for a variety of publications, serves on the board of Danspace Project, and is a faculty member at the Institute for Curatorial Practice in Performance at Wesleyan University's Center for the Arts. He is also on the advisory committees of a variety of local and diasporic organizations, including Contemporary And, The Laundromat Project, Participant Inc., Recess, and Vera List Center for Arts and Politics. In 2015, Lax was awarded the Walter Hopps Award for Curatorial Achievement, and in 2017 he was a Center for Curatorial Leadership Fellow.
Nia Love received her BFA from Howard University and an MFA from Florida State University. She has been a Fulbright Fellow (2002–03), a Brooklyn Arts Exchange/BAX artist-in-residence, a Movement Research artist-in-residence, and a Movement Research Exchange guest artist/lecturer at UCLA (2017). She received the NYLA/Suitcase Fund, the Alvin Ailey New Directions Lab Choreographer Award, a CUNY Dance Initiative, a Bessie award for Most Outstanding Performer as part of the ensemble of Skeleton Architecture, and the 2018–19 CUNY Incubator Grant. She is currently a BAX Advisor, an adjunct professor at Queens College and The New School, and a guest professor at Bard College. In 2019 she will be a visiting professor at University of Illinois Urbana-Champaign.
Melanie Maar is a New York–based dance artist from Vienna, Austria. Her work shares an intimacy between movement and sound, animalism and humanism, femaleism and objectism, resonance and struggle. Her Line Death Dance is currently presented by the Chocolate Factory Theater. She was awarded the 2015 Grant to Artists from the New York Foundation for Contemporary Arts. She was also a Movement Research artist-in-residence and is on their Artist Advisory Council. She has performed for luciana achugar, RoseAnne Spradlin, Daria Fain, Walter Dundervill, and Luis Lara Malvacias. Her -process as guide- is an ongoing study group model for dance artists.
Barbara Moore, director of the Peter Moore Archive, is an independent scholar who was a keen personal witness to and participant in late-20th-century avant-garde art, particularly in performance and artists' publications. A fierce advocate for alternative forms of art-making, for over 55 years she has been a historian, writer, editor, lecturer, curator, rare-books dealer, and archivist, as well as director of the performance-documentary and photojournalism archive of the late photographer Peter Moore. She is currently finishing her book Observing the Avant-Garde: Peter Moore and the Photography of Performance.
Erick Montes is a choreographer originally from Mexico City. He is a former member of the Bill T.Jones/Arnie Zane Dance Company (2003–15). He trained at the National School of Ballet and Contemporary Dance in Mexico City, where his professional career started with Company Barro Rojo in 1997. In 2004 he was mentioned as one of Dance Magazine's 25 to Watch. He holds a fellowship in choreography from the New York Foundation for the Arts, a Fund for New Work/Harlem Stage (2010). He is a recipient of México's National Grant FONCA "Ejecutantes" (2003–05). He has collaborated with numerous artists presenting his own work at Movement Research at the Judson Church, as well as E-Moves, Mexico Now, and CPR.
Laura Peterson is a New York City–based choreographer and installation artist who creates works that challenge the limits of physicality and reframe performance spaces. Influenced by the visual art of the 1970s, she creates visually arresting installations and rigorous choreography. Her performances have included large-scale paintings, 1,000 square feet of living lawn, 16-foot-tall paper sculptures, and other giant structures. Peterson has received residencies and commissions for the last 10 years from the Bogliasco Foundation Fellowship, Lower Manhattan Cultural Council, Queens Museum of Art, and others. Her work has been performed at venues including the John F. Kennedy Center for the Performing Arts, HERE Arts Center, Judson Memorial Church, Lincoln Center Out-of-Doors, and in Europe and South America.
Rev. Dr. Donna Schaper, formerly at Coral Gables Congregational Church in Miami and, prior to that, Yale University, is senior minister for Judson Memorial Church. She has been at Judson for 12 years. She is associate professor for religious leadership at Hartford Seminary and author of 37 books, most recently Never Enough Time: A Practical and Spiritual Guide and I Heart Francis: Love Letters from a Reluctant Admirer. She actively participates in the Spiritual Life program at New York University, where she also teaches a course on interfaith marriage.
John J. Thatamanil is an associate professor of theology and world religions at Union Theological Seminary. Thatamanil's research asks whether it is possible to learn from other religious traditions without taking up the practices of those traditions. Can comparative theological learning lead not just to new knowledge about other traditions but to genuine interreligious wisdom that learns from them? He is the author of The Immanent Divine: God, Creation, and the Human Predicament, which stages a conversation between Paul Tillich and the Hindu theologian Shankara. Thatamanil has just completed another book, Circling the Elephant: Constructive Theology through Interreligious Learning.
Education at MoMA is made possible by a partnership with Volkswagen of America.

Major support for Adult and Academic Programs is provided by the Estate of Susan Sabel.

Generous funding is provided by endowments established by Agnes Gund and Daniel Shapiro, The Junior Associates of The Museum of Modern Art, Walter and Jeanne Thayer, and by the gifts of Alan Kanzer. Additional support is provided by the Annual Education Fund.