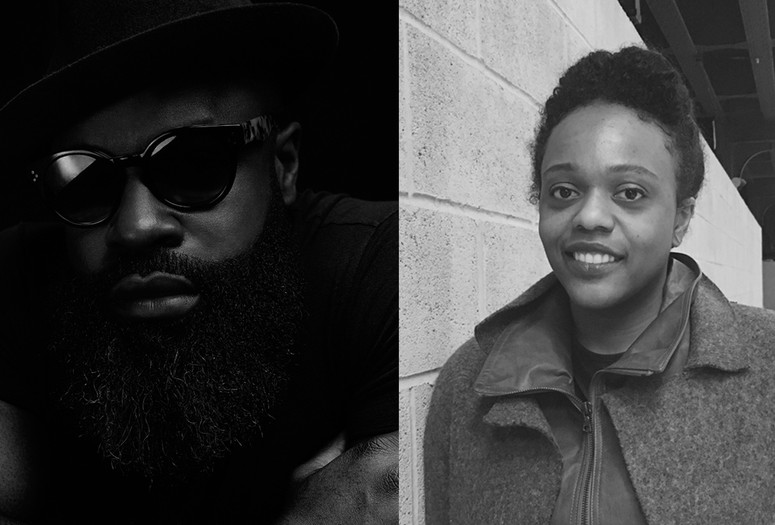 Presented by The Friends of Education of The Museum of Modern Art as part of the series Conversations: Among Friends, this evening's program, Crossing Disciplines, features a conversation between artist Leslie Hewitt and musician Tariq 'Black Thought" Trotter, moderated by Jasmine Martin. The discussion focuses on their collaborations, the symbiotic relationship between music and art, and the shared influences, inspirations, and cultural identities that have shaped their careers.
The program begins at 7:00 p.m., followed by a reception at 8:15.
Black Thought, born Tariq Trotter, cofounded legendary Philadelphia hip-hop collective The Roots alongside Amir "Questlove" Thompson. Since their formation in 1987, the group has won three Grammy Awards, sold millions of records, and indelibly impacted the mainstream as the house band on The Tonight Show Starring Jimmy Fallon and through their successful Roots Picnic festival. An accomplished actor, Black Thought emerged as an unforgettable onscreen presence in the critically acclaimed Get On Up, HBO's The Deuce, and more. He has also made countless cameo appearances, for everyone from Linkin Park, Damian Marley, and Fall Out Boy to Common, Ghostface Killah, Logic, and more. 2017 saw him set the Internet ablaze with a widely touted, viral 10-minute freestyle on Mobb Deep's "Burn" instrumental, which quickly generated millions of views. This year, Black Thought has embraced a new chapter with his Streams of Thought series of EPs, each made in collaboration with renowned producers and featuring cover art from various black visual artists. Vol. 1, which was released in June of this year, was produced by 9th Wonder and the Soul Council, with cover art by Rashid Johnson.
Leslie Hewitt lives and works in New York. Working with photography, sculpture, and site-specific installations, Hewitt addresses fluid notions of time. Her photographed still life compositions use political, social, and personal material, embedding multiple histories in sculptural, architectural, and "abstract" forms. Hewitt has held residencies at The Studio Museum in Harlem; the Museum of Fine Arts, Houston; the Radcliffe Institute of Advanced Study at Harvard University; and the American Academy in Berlin, Germany; among others. Her work was included in the 2008 Whitney Biennial in New York; the 2009 New Photography exhibition at The Museum of Modern Art, New York; the 2015 Göteborg International Biennial for Contemporary Art (GIBCA) in Sweden; and the landmark 2015 Photo-Poetics: An Anthology exhibition at the Solomon R. Guggenheim Museum, New York. She also received the 2008 Art Matters research grant to the Netherlands. Hewitt has work in several public collections, including the Los Angeles County Museum of Art (LACMA); the San Francisco Museum of Modern Art; Solomon R. Guggenheim Museum; the Walker Art Center, Minneapolis; and the Whitney Museum of American Art, New York. Hewitt has upcoming exhibitions at Galerie Perrotin, Paris; The 57th Carnegie International, The Carnegie Museum of Art, Pittsburgh; and the Contemporary Art Center, New Orleans; among others. A monograph, published by OSMOS, will be released in September of 2018.
Jasmine Martin is the founder of 5735 studios, a boutique agency that works to integrate musicians into art, fashion, and film through creative partnerships. A former brand strategist at Columbia Records and Interscope Records, Martin developed partnership opportunities for Solange Knowles, Lana Del Ray, Kendrick Lamar, Leon Bridges, Chloe x Halle, DeJ Loaf, ZHU, Wet, and more. Additionally, in 2016, Martin launched Mixed Medium, a 501(c)3 organization that provides art and music education to underprivileged youth in Philadelphia, PA, in partnership with local cultural institutions, black visual artists, and black musicians.
Presented by The Friends of Education of The Museum of Modern Art, Conversations: Among Friends explores works of art as reflections of their political and social contexts.