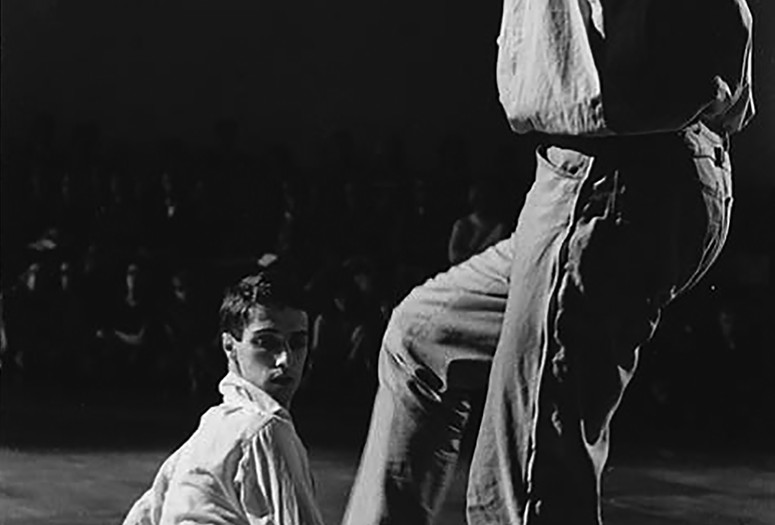 A conversation between Steve Paxton and David Velasco, editor-in-chief of Artforum, follows the 3:00 p.m. performance.
Between 1961 and 1965, Steve Paxton (American, b. 1939) toured as a dancer in the Merce Cunningham Dance Company. During that time he also made his own choreographic work and collaborated with Robert Rauschenberg, the company's lighting, set, and costume designer. In 1964, the two performed Jag Vill Gärna Telefonera (I Would Like to Make a Phone Call), in which they interpreted a collage of mostly sports photographs by mimicking each pose while freely linking the images through their physical movement and contact. The work anticipates Contact Improvisation—a collaborative movement practice Paxton developed in his 1972 performance Magnesium, in which participants use touch rather than sight to generate movement together.
In 1982, Paxton gave the score for Jag Vill Gärna Telefonera to his student, Stephen Petronio, who performed the work with Randy Warshaw. For this exhibition, Stephen Petronio Company will reconstruct the 1982 version and create new interpretations of Paxton's score. This program also includes Paxton's The Goldberg Variations by J.S. Bach Played by Glenn Gould Improvised by Steve Paxton (1986–92), an ethereal solo that Paxton performed in empty dance halls and in the woods, among other unorthodox locations.
Performed by members of Stephen Petronio Company: Bria Bacon, Ernesto Breton, Jaqlin Medlock, Tess Montoya, Ryan Pliss, Nicholas Sciscione, Mac Twining, Megan Wright