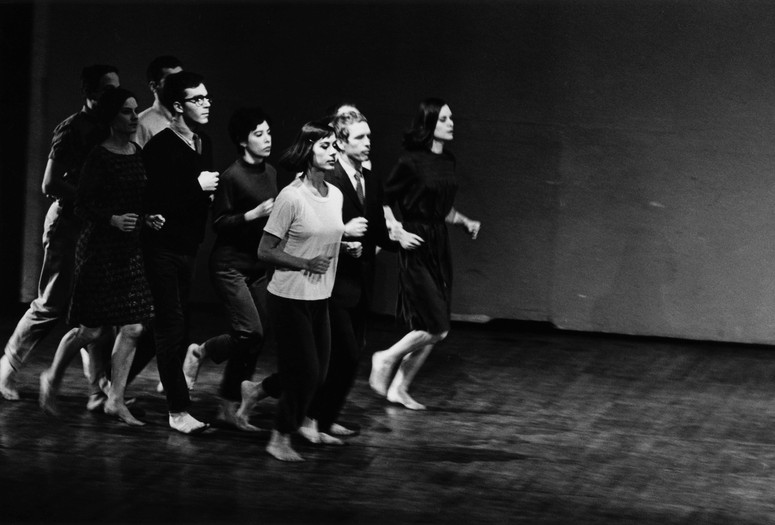 A conversation between Yvonne Rainer and novelist and cultural critic Lynne Tillman follows the 12:30 p.m. performance.
Since the beginning of her career in the early 1960s, Yvonne Rainer (American, b. 1934) has challenged many of the movement conventions and narrative structures of modern dance. The performance program features eight dances by Rainer, including her earliest works, Three Satie Spoons (1961) and Three Seascapes (1962), in which she explores various relationships between movement and sound. The program also includes two sections from Terrain (1963)—the Judson Dance Theater's first evening-length presentation of a single work by one choreographer—"Talking Solo" and "Diagonal," the latter of which uses games as a guiding compositional principle. Trio A (1966), which has undergone many incarnations, is a series of precisely constructed sequences of seemingly disconnected motions, both virtuosic and mundane, in which the performer never makes eye contact with the audience. Rainer also experimented with athletic and everyday movements in We Shall Run (1963), set to the Tuba mirum from Hector Berlioz's 1837 Requiem, and Chair-Pillow (1969), which was first performed in her Continuous Project—Altered Daily (1969). This latter project included many Judson dancers and explored different aspects of the working process of dance making, learning, and rehearsing. It was also an important source for The Grand Union, an improvisational group Rainer was key to forming in the 1970s, which gathered some of the same Judson participants together again.
Performers: Brittany Bailey, Ty Boomershine, Patricia Catterson, Emily Coates, Patrick Gallagher, Patricia Hoffbauer, Iréne Hultman, Abigail Levine, Louisa Pancoast, Omagbitse Omagbemi, Emmanuèle Phuon, Damani Pompey, Suzzanne Ponomarenko, Yvonne Rainer, Heather Robles, Keith Sabado, Mary Kate Sheehan, David Thomson, Timothy Ward
The artist gratefully acknowledges Roselee Goldberg and Esa Nickle of Performa.