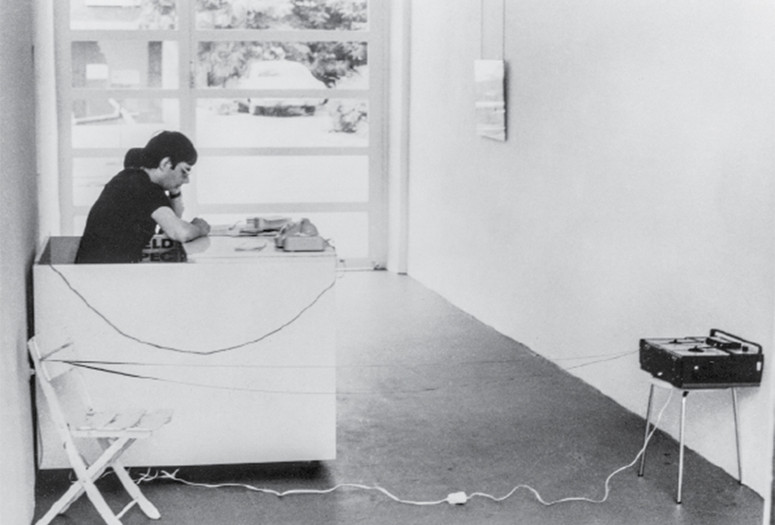 Bruce Nauman staged his first European solo exhibition in the summer of 1968, showing Six Sound Problems for Konrad Fischer at a Düsseldorf gallery. The noisy installation was constructed entirely on-site, as Nauman recorded the sounds he made while performing repetitive actions: pacing back and forth, bouncing a ball, playing a violin off-key. The audiotape loops were stretched across the gallery and loosely wound around a pencil fastened to a chair. Every day, a different sound would play and the chair would be moved to a different spot, shifting the angle and length of the tape in a radiating pattern. This dynamic setup was reconfigured each day the gallery was open, presenting the rhythms of the absent artist as a kind of fleeting sculpture. The work has become an important milestone in the history of sound as an artistic genre—though why exactly Nauman deemed sound a "problem" here remains an open question.
Inspired by Six Sound Problems…, this panel discussion introduces new perspectives on Nauman from six scholars who have studied his work in depth. Each will speak about a "problem" in the artist's practice that has long perplexed them. Panelists include Michael Auping, independent scholar and former Chief Curator, Modern Art Museum of Fort Worth; Carlos Basualdo, The Keith L. and Katherine Sachs Senior Curator of Contemporary Art, Philadelphia Museum of Art; Janet Kraynak, Senior Lecturer and Director of MA in Modern and Contemporary Art, Columbia University; Constance M. Lewallen, Adjunct Curator, University of California, Berkeley, Art Museum and Pacific Film Archive; Joan Simon, independent curator, writer, and arts administrator; and Robert Storr, artist, curator, and Professor, Yale University.
The program, held in conjunction with the exhibition Bruce Nauman: Disappearing Acts, is moderated by Kathy Halbreich, Executive Director, Robert Rauschenberg Foundation, and former Laurenz Foundation Curator and Advisor to the Director, The Museum of Modern Art.
Tickets ($15; $10 members and Corporate members; $5 students, seniors, and staff of other museums) can be purchased online, at the information desk, or at the Education and Research Building reception desk on the day of the program.
Enter through the Cullman Education and Research Building, 4 West 54th Street.
American Sign Language interpretation and CART captioning is available for any public program, with advance notice. Please email [email protected] to request sign language interpretation with two weeks notice or to request CART with three weeks notice.
Education at MoMA is made possible by a partnership with Volkswagen of America.

Major support for Adult and Academic Programs is provided by the Estate of Susan Sabel.

Generous funding is provided by endowments established by Agnes Gund and Daniel Shapiro, The Junior Associates of The Museum of Modern Art, Walter and Jeanne Thayer, and by the gifts of Alan Kanzer. Additional support is provided by the Annual Education Fund.