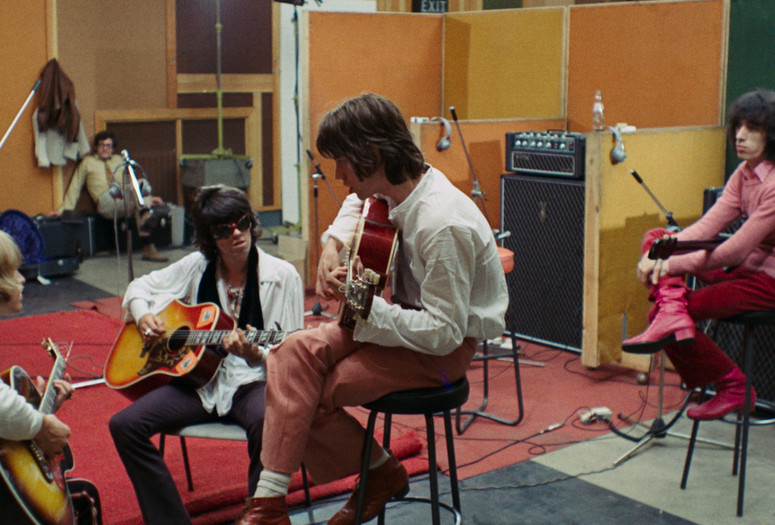 Sympathy for the Devil (One Plus One). 1968. Great Britain. Written and directed by Jean-Luc Godard. 100 min.
MoMA premieres an exclusive New York theatrical run of the newly restored Rolling Stones/Godard collaboration Sympathy for the Devil (One Plus One). Martin Scorsese, in an interview, observed, "Sympathy for the Devil: now that's quintessential. That movie, with the vignettes that [Jean-Luc] Godard intercuts with the rehearsal sessions…[a] still powerful and disturbing movie. It makes you rethink; it redefines your way of looking at life and reality and politics." Keith Richards, in his memoir Life: "Politics came for us whether we liked it or not, once in the odd personage of Jean-Luc Godard, the great French cinematic innovator…. Sympathy for the Devil is by chance a record of the song by us of that name being born in the studio. The song turned after many takes from a Dylanesque, rather turgid folk song into a rocking samba—from a turkey into a hit—by a shift of rhythm, all recorded in stages by Jean-Luc…."
In his original version of the film, entitled One Plus One, Godard intentionally omitted the final studio recording of the song—an indication, to some, that the work of the "people's revolution" remained unfinished. However, producer Ian Quarrier, in a bid to give Stones fans what they wanted, insisted on putting the complete song back in, and renamed the film Sympathy for the Devil. Thus at the end of each screening at MoMA, Godard's unaltered ending for One Plus One will also be shown.
This new 4K digital restoration is presented on September 13 by cinematographer Tony Richmond (Don't Look Now, The Man Who Fell to Earth), who supervised the color grading from the original 35mm camera negative. Courtesy of ABKCO Films.