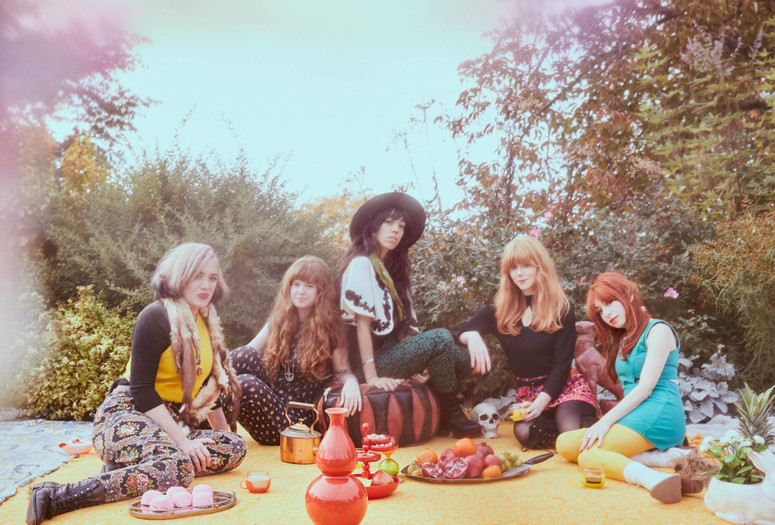 Live music begins at 6:30 p.m.
Brooklyn-based quintet Habibi was formed in the spring of 2011 by Detroit natives Rahill Jamalifard and Lenny Lynch, who bonded over their love of Middle Eastern psych music. Tapping into their Motown roots for simple but infectious pop melodies delivered with punkish attitude, the two recruited Karen Isabel and Leah Fishman; Alana Amram often joins the line-up. The band quickly received critical accolades for its self-titled Burger Records debut, heralded by The New Yorker as "stunning." In 2018 Habibi released Cardamom Garden, which Pitchfork characterized as "full
of music that blends cultures, languages, and genres, with charming and intriguing results . . . shedding rigid definitions of what constitutes American music."
Rahill Jamalifard, vocals; Lenny Lynch and Alana Amram, guitars; Leah Fishman, bass; Karen Isabel, drums
Every Thursday in July and August, 5:30–8:00 p.m.
Live music begins at 6:30 p.m.
Regular Museum admission applies. Performances take place in the Sculpture Garden. In the event of rain, the Garden will close, and music will take place in Theater 1. Please note: Sculpture Garden and indoor seating are limited and on a first-come, first-served basis.
The musical component of Summer Thursdays 2018 celebrates musicians living and working in New York City. Organized in collaboration with PopRally, the series hosts a variety of sounds that explore the City's expansive musical landscape. Each evening, unique sonic flavors fill the Sculpture Garden with a range of blended genres such as dream punk, Afrofuturist soul, funk fusion, hip-hop, experimental, and lo-fi baroque pop.